DAY OF THE DEAD: GIGANTIC KITE FESTIVAL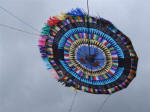 November 1 is All Saints Day, known here as the Day of the Dead (following Halloween - "All Hallow's Eve"). It is the day to celebrate the lives of deceased loved ones. Communities celebrate in a variety of ways, from costumed dancing to horse races. In Guatemala there are 2 towns near Antigua, Santiago Sacatepéquez and Sumpango, that celebrate this event with the feria de los barriletes gigantes, or gigantic kite festival.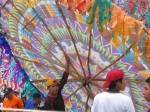 (The largest are 50 ft. in diameter.) These festivals take place in the cemetery and at first (and in the end) appear to be a rather irreverent way to celebrate the deceased's life, trampling over their graves and climbing on top of mausoleums for a better view of the activities, vendors pushing food carts over decorated dirt mounds. Flying kites, it is believed, creates a communication line between the living on earth and the deceased above for a day. Some say the sound of the wind in the kites chases away the evil spirits that cause bad harvests, sickness, etc. Deceased are also honored with flowers and food, and candles are lit at nighttime. We attended the 107th annual Gigantic Kite Festival in Santiago Sacatepéquez, the larger of the two festivals.
LAKE ATITLÁN (Lago de Atitlán)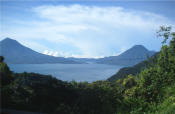 This gem of a lake - considered by many travelers as one of the most beautiful lakes in the world - is located in the Western Highlands of Guatemala. It is surrounded by majestic volcanoes and Maya villages. With a depth of 1,000 ft., this volcanic crater lake is the deepest lake in Central America.
Interestingly, in the late 1950's in an effort to boost tourism, Pan American Airlines recommended stocking Lake Atitlán with fish for angler enthusiasts. Non-native black bass were brought in which took to their new environment too well, eating over two-thirds of the native inhabitants. This in turn contributed to the extinction of the giant grebe, a rare bird the only lived around this lake.
The Lake is typically a 3-hour ride from Guatemala City, snaking through the mountains. The latter part of the trip was very slow going in the dark with dense ground fog and lots of traffic - both vehicular and pedestrian. Fortunately, we were using a private shuttle van service that employs conscientious drivers, getting us there in one piece but needing a drink. We spend our first night in Panajachel, the "gateway" to Lake Atitlán, staging there for our Sunday morning trip to Chichicastenango.
Chichicastenango lies north and is a long 1-hour windy drive through the high mountains, quite scenic as we drive through tiny villages, locals in traditional dress walking the roadway. Chichi is well-known for it's Sunday (and Thursday) market days: It's a humongous, colorful street market encompassing numerous blocks. Locals come from all
| | | | | |
| --- | --- | --- | --- | --- |
| | | | | |
| Sunday on the church steps with offerings . . . | . . . of individual fires and marigolds for the dead. | Very long aisles between the market stalls. | Indoor food market. | A patchwork quilt made from various huipiles. |
over the area, carrying their wares on their backs. Although we did not witness this, we hear watching them set up their tents/stalls the night before, and then tear them down the next night, is pretty incredible. For Linda and Deborah who were in the buying mood for textiles, the experience was overwhelming, pressing forward through thick crowds of mostly local Mayas. Navigating back to a specific stall took perseverance but paid off, as Linda and Deborah both bought antique runners - textiles of this nature we had not seen any place else except in Antigua at one upscale shop. Lighter on cash . . . but the girls happy . . . we take the early shuttle back to Panajachel and embark to our next destination via the only practical means of getting around the lake - the water taxi shuttle.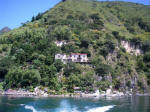 Our next destination was at La Casa del Mundo in Jaibalito on the north side of the lake. It is a collection of about 15 rooms scattered up and down a secluded cliff, each room overlooking the lake with a view of the three volcanoes. The Canadian owners have taken 15 years to artfully build this spectacular place, with stone walkways, balconies, patios, terraces and beautiful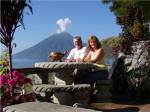 gardens all over the cliff side. The whole place is tastefully decorated with local textiles (labeled by pueblo) and other artwork. Lex & Linda's room was a serious hike way up to the top; Steve & Deb's room was at restaurant level where we could keep an eye on the stoking of the hot tub. The wood-fired hot tub for a dozen (you have to reserve it 24 hours in advance so they can fill it with fresh water and heat it just for you) juts out over the lake, volcanoes in view! A swim at sunset in the clean lake was exhilarating. A delicious 3-course family style dinner at one long table for all guests was a great way to meet international travelers, not to mention the hot tub (again) afterwards! After breakfast the next morning, another dip in the lake for a hair wash - and picture taking from way out - was in order. This is a DO NOT MISS experience. Our only regret is that we were not able to spend another night here.
A little further west is Aaculaax in San Marcos La Laguna. San Marcos, a tiny laid-back eco-friendly town, is known for its yoga, massage, holistic and other naturalistic centers. A walk through the coffee crops with the help of "boat-boy types" puts us at our next destination. The German-owned Aaculaax has about 10 rooms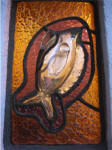 built into the living rock, dotted along the hillside, each with lake and volcanoes views and private patios. The entire place is made from recycled and natural materials. Many walls are made of chicken wire filled with plastic bottles stuffed hard with plastic food wrappers/bags, then plastered over. This helps recycle non-biodegradable trash and provides great insulation. Other walls are filled with volcanic rocks gathered from the lake shore. The owner is really into stained glass and tile work so there's lots of it all around including embedded into the rooms' walls, doors and baths. (The stained glass is all made from recycled glass and bottles; paper maché, not metal, is used to brace the glass.) Lex & Linda had the "honey-moon" suite (The Mirador) which was a pristine 2-story affair with a fantastic view of the three volcanoes from their bed - and from their outdoor bathroom and hot tub! We had The Pescador (The Fisherman) room, a cozy room with the same great lake/volcanoes view from the bed, shower carved out of the rock hill, patio on roof top. Really cool place, a bit funky, clean and uniquely interesting.

Lake Atitlán has 12 pueblos scattered around the lake - named after the 12 apostles. A morning trip to Santiago Atitlán (St. Anthony?) afforded us another great opportunity to see local villagers wearing their traditional dress - here the men proudly sport their colorful trajes. We paid our respects to Maximόn (see below). We browsed the numerous shops

and street vendors in search of huipiles, the traditional woman's blouse. Santiago Atitlán's known for their very elaborately embroidered huipiles with birds on it. Since we are gringos, the prices start high and you have to learn to bargain down to 25-50% of the original asking price, which

we did. The women will follow you through the streets, gradually reducing their price. As we pulled away from the dock, a last ditch effort by Steve to secure a huipil resulted in big savings. Still, we probably should have negotiated harder - that's hard to do when you understand the amount of time and work that goes into each huipil. The lady at left has 4 front teeth with various gold-design inlays/borders - a sign of prestige, the more the better.

Maximόn (mah-shee-mohn) We paid our respects (i.e., paid money) to Maximόn,

the cigar-smoking, booze-drinking, silk-draped highland Maya deity. He is a fusion of traditional Maya saints, Catholic saints and Spanish conquistador legends. Maximόn embodies all the "good" things in life – he especially likes offerings of rum, cigars and candles. He lives with a lucky family (lucky 'cause they get all the goodies) for a year, then is paraded through the streets during Santa Semana (Holy Week / Easter) before moving to another lucky family for a year. Inside the entry way a woman, right, stokes an offering fire while smoking two cigars - we're sure she did Maximόn proud!
Lake Atitlán is the site of the horrendous Guatemalan floods and mudslides caused by hurricane Stan in October 2005. Mile-wide rivers of mud from the saturated volcano slopes literally buried whole villages under 15-20 ft. of mud, creating massive gravesites. The most devastation of all was right here in a little community of Santiago Atitlán; also San Marcos (Aaculaax town). A couple of thousand Maya lives were lost and several thousand homeless. Guatemaltecos speak of it frequently and as you saw with the kite festival, pay homage to it.
Santiago Atitlán is also the place of the 1981 assassination of a missionary. In 1990, a protest at the army base resulted in Santiago Atitlán being made "a military free zone". This area certainly has had it's difficulties, as it's population was also hit hard during the decades of violent civil war.
- - -

We bought some nice textiles here in Santiago Atitlán, Chichi and Antigua, including several huipiles. Even with our "tough" negotiations I'm sure we still overpaid. To see a sample of our textile purchases, see Guatemalan Textiles Bought. At the bottom of that page is a really great drawing and explanation of the Parts of the Backstrap Loom used for Mayan Weaving.
We have put together Lake Atitlán Trip Recommendations which includes information and prices on recommended lodging and transportation, logistics and trip tips in general.