[ Back ] [ Home ] [ Up ] [ Next ]
Click any picture to enlarge; then close out of that window to return here.
BAY ISLANDS OF HONDURAS '07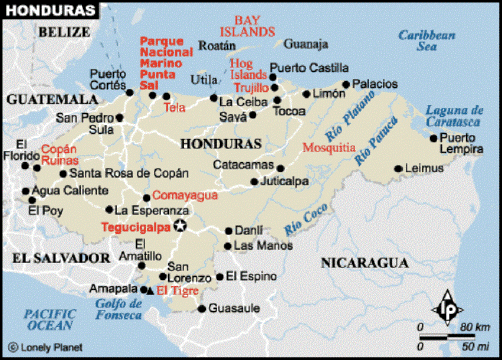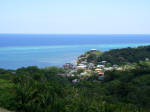 The Bay Islands of Honduras consist of three islands north of mainland Honduras, stretching 75 miles end to end: Roatán and lesser known Utila and Granaja. All are popular travel destinations for awesome and inexpensive dive trips and certification courses. All islands are closely surrounded by coral reefs, making diving from a dinghy or 5 minute boat ride the norm. There are a hundred numbered and named dive sites, marked by dive/mooring buoys, on the south, west and northwest coasts of Roatan. Although Spanish is the official language of mainland Honduras, the Bay Islands retain their English heritage (Great Britain ceded the islands to Honduras in 1859) where English is the dominant language, although Spanish and Garifuna (African-Carib-Arawak Indian) are also present. Pictured is the north coast of Roatan, reefs clearly visible.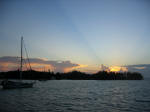 There are numerous accessible bays for cruisers on the south side of Roatan. We anchored in French Cay Harbor behind the reef and small cays, next to Fantasy Island Dive Resort. From here we have access to the Roatan Yacht Club (for $3 you get secured dinghy dock, fast wireless internet, trash dumping, bar, pool; laundry service also available; restaurant temporarily closed due to change in ownership), a state-style grocery store, and other services. Taxis (cheap) are easily available to go to the popular but low key West End with its multitude of dive shops, restaurants, bars and shops. Fantasy Island, where ARGO and Deborah were docked for 2 weeks (while Steve returned to the States for his daughter Jana's graduation from law school), offers scenic beaches, snorkeling, dive operations (Deborah did several dives including a night dive), wireless internet, bar and entertainment. Pictured: ARGO and Fantasy Island.
FANTASY ISLAND DIVE RESORT, FRENCH CAY HARBOR

French Cay anchorage & Fantasy Island, both in far background
Traditional Fire Dancing
One of several superb beaches and swimming areas
Monkeys roam freely; one stole my margarita
Traditional Garifuna Dancing
. . . AND THE MENAGERIE at FANTASY ISLAND
Iguanas everywhere on Roatan - orange, green, brown, big, small
Agoutis (a rodent) are everywhere on Island
A coatimundi, member of raccoon family, lives on ground and in trees
Separated, lovesick scarlet macaws
Checking for leftover [alcoholic] beverages in the trash (he drank thru a straw, got tired of it, took lid off and drank out of cup!)
Kinkajou - nocturnal, agile, lives in tropical forest canopy tops
They could be easily approached
Parrot couple (they hate to be separated)
Toucan
Several of the cruisers became friends with Dr. Jamie Betheaepstein, an American (ex-pro football player) who is just getting his liveaboard dive boat, m/v Tabutne 1 "Divers At Play", ready for charter trips. We had several pot luck dinners on board and a day trip to dive the West End, Roatan. Deborah accompanied him and his crew on their very first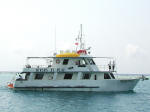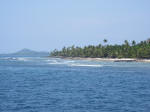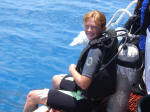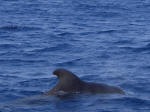 charter with paying guests for a 3-day dive trip to Utila. Pictured above is the deserted north coast of Utila, with dive/mooring buoys scattered close to shore. Deborah was guest / guest crew, doing all the dives and helping out as needed. On the 20 mile trip from Roatan to Utila, we spotted several pilot whales that swam very close to our boat. Unfortunately by the time I got my camera, this was the best shot I could get.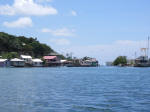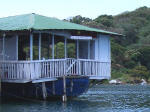 We took several road trips around Roatan. Typical housing along the south coast are houses built out over the canals that run inside the reefs. It's common to see outhouses on the docks. A water taxi was necessary to check out the cheeseburgers and cold beer at the locally famous Hole in the Wall in Jonesville, also built out over the water (but fortunately not on a canal), over owner Bob's trimaran that sank there 17 years ago. There are large fishing and shrimp boats, many which have been converted to carrying lobster traps, as these waters have been badly fished out. Pictured left: Stilted houses over canal; Right: a true "house boat"; however, it's really a boat of ill-repute.
It is now time to start planning our trip back to the Rio Dulce, Guatemala for hurricane season. We plan to do this leisurely, checking out a few more anchorages in Roatan, then heading west stopping at Cayos Cochinos, the Bay island of Utila, Puerto Escondido on the mainland, and finally staging at Cabo Tres Puntos before taking the bar exam at Livingston, Guatemala.
So, after more than a month at French Harbor, we head east along Roatan's south coast to Port Royal, a huge bay(s) surrounded with green hills and reefs and not much else there but peace and quiet; and Jonesville (pictured above). Jonesville surrounds a 2-pronged finger of water jutting up into the green hills and protected at the entrance by reefs (Deborah had a great dive there from the dinghy). A popular cruiser hangout, Jonesville was more than we expected. About a half dozen cruisers are anchored there and several land-based cruisers have houses there including the Hole in the Wall restaurant/bar. Our first night there, one land-based cruiser hosted a Blue Moon pot luck dinner party at their house overlooking the reef. Another land-based cruiser offers use of his laundry facilities and trash disposal (donation) and $1/day wifi internet on our boat. As there is no public road access here, group trips into town were done with the various land-based cruisers (e.g., in the back of a pickup). We had several dinghy outings exploring the surrounding area, and left more to see next year when we return. Definitely a fun place.

Cayos Cochinos national park is an isolated collection of small islands and cays surrounded by reefs and turquoise waters, located midway between Roatan and mainland Honduras. We'd heard this is a must-stop and so we did for several days. As it is somewhat remote, there's seldom more than a couple of boats here, good thing as there are only 5 mooring balls and no anchoring allowed. Ashore the lush, mountainous Cochino Grande are several private homes, hiking trails, old lighthouse and the Plantation Reef Dive Resort which is cruiser-friendly. With half a day's notice, Plantation Resort made us dinner 2 nights (huge amounts of crisp beer-battered fish and delicious lasagna) which was very good. We look forward to a repeat performance next year.

Next on our way west, we go to the bay island of Utila, East End anchorage. Utila is basically a flat island with one knobby hill, surrounded on the west side by a gillion reefs, and East End being it's only really settlement. Unfortunately, Utila (East End) has the reputation for thefts and break-ins after dark, so cruisers are usually home by then. We checked East End out during the day, but the hot stagnant air kept our activity in check. However, we did get a good feel for this area.

Next we stopped at Puerto Escondido at Punta Sal on mainland Honduras. Again, another must-stop, we'd heard. Once we figured out the tricky entrance, we enter the bay bordered on one side by lush lowlands, and on the other side (where we anchored) unbelievably beautiful lush peaks studded with brilliant purple and white flowering trees. A German female single-hander that we knew arrived the next day after catching a tuna en route, and invited us and the only other boat over for sashimi and cocktails at sunset. Excellent!!!!
Time to stage for the Rio Dulce bar exam at Cabo Tres Puntos along with 3 other boats. Weather had surrounded us (but not affected us, other than the unusual westerly winds so we couldn't sail) all day, giving way to spectacularly purple blue skies and mountains, and clouds ranging from stark white to creamy golden. We all leave the anchorage in the dark the next morning prepared for the Guatemala bar exam . . .
Continue to Guatemala . . .
[ Back ] [ Home ] [ Up ] [ Next ] [ Top of page ]