[ Back ] [ Home ] [ Up ] [ Next ]
Hold mouse over pictures for captions. Click any picture to enlarge; then close out of that window to return here.
BELIZE '07
We spent a little time in southern Belize in 2006 en route from Houston to the Rio Dulce. This year we wanted to explore the northern part of Belize. The northern part of Belize is, in general, very shallow with reefs and coral heads. It is doable, but with our 6'4" draft we have to be particularly careful and don't like to tempt fate, so we are a bit conservative compared to some of the other cruisers.

Making our way north inside the reef (this reef is the 2nd largest barrier reef in the world next to Australia's Great Barrier Reef), we anchored in: Wild Cane Cays (left), the only boat the first night in this pleasant area surrounded by numerous low-lying mangrove cays; Placencia, a big cruiser hangout, where we saw the Super Bowl on the big screen; Colson Cays; Drowned Cays, large cays with numerous "hurricane" cuts through the land - we really liked this secluded (only boat) and protected anchorage. Negotiating the wide channel of Ship's Bogue at high tide we saw 5 1/2 feet but never slowed, just goes to show you that holding your breath really does help. A couple of miles across 7-9 ft. flats we were at St. George's Cay with it's nice resort ashore, but shallows up far out so we had to anchor about a mile from shore before dinghying in for a look.
Next day through the aptly named Porto-Stuck, we did, backed up and tried again. About now you're wondering about navigation aids. Well, in this case there are palm fronds lined up on one side to use as a guide,

and apparently we got too close to them when we hit 5 ft. (at high tide). Later we were told that the locals move/replace them periodically and they don't always get them back in the same spot. Oh. Additionally, in good light (which we had until a barge went through and the clouds moved in) you can actually see the keel marks left by other boats and pick your way through. Steve was perched up on our rat line (ladder in the rigging; demonstrated at right), with camera ready, but he couldn't see squat. Incidentally, the areas we have been so far are pretty much clear of coral heads with only sand or grassy bottoms, so if you do touch, it's not a big deal, unless you get stuck!
After Porto-Stuck, 3 miles of 6-8 feet depths, then another 3 miles of depths gradually increasing to 9 feet (whew! never thought I'd feel so much relief at seeing 9 feet!) and we arrive at Caye Caulker, our home for the next month or so.


Caye Caulker (left) is a quaintly small (4 x .3 mile), all sand (no pavement) island, with only pedestrian, bicycle and golf cart traffic. This is a tourist destination for backpackers and water enthusiasts and those just wanting to laze around. Regular water taxi service (right) connects Caye Caulker with Belize City (45 minutes) and Ambergris Caye (30 minutes) to the north.


Ambergris Caye (town of San Pedro), well-known as a diving destination and more touristy, is similar to Caye Caulker, but a bigger (25 miles long), busier version with lots of resorts and "second homes" stretched up and down the beach. Ambergris in some ways reminds us of Grand Cayman Island.

Prior to lobster season ending February 15, in the late afternoons Steve would dinghy to the cleaning "stations" and buy lobster tails as the fishermen de-headed them. The large tails are sold to the Caye Caulker fish coop (which is not allowed to sell retail) who sends them to Belize City for sorting and shipping to Red Lobster in the USA; the smaller tails we bought. Altogether, we bought 26 succulent tails at about US$1 each - 3 tails per person makes for a great dinner. We dined on them for Valentine's Day, had a delicious dinner onboard when guests visited (below), and the rest are in our freezer for future treats.

Houston friends Susan and Red (live-aboards on s/v Compromise) recently visited us here at Caye Caulker for a wonderful, laid back vacation. They volunteered to shop and bring stuff to us, and so we let them - 2 duffle bags and one box full of stuff, including our mail, boat spares, hard to find items, DVDs, etc. While here, we dinghyed to the barrier reef and snorkeled on our own. In an effort to maximize their time, another day we took a snorkel tour up to Hol Chan Marine Reserve (Ambergris): At Shark Ray Alley we swam with sharks (nurse) up to 10-12 feet long and lots of rays gliding around us; Hol Chan Cut, a natural 30 ft. deep channel through the reef, gave us a chance to snorkel the walls on either side, seeing lots of colorful fish and healthy coral. Our guide, with long pointer in hand, gave us great
Giant (3 ft.) leatherback turtle
Baby nurse sharks frolicking
Fish under coral camouflage
Red, in protective garb getting drenched underway, but saving the Belikin beer
Stingray with stowaway
Stingrays stirring
Spotted eagle ray
Boys misbehavin' . . .
. . . boys behavin'
narrative on what we were seeing below. Towards the end of the day, our boat broke down (brand new engine), then the rescue boat ran out of fuel, not to worry, swapped fuel tanks and made it back just before dusk. Another day we hopped on the open-air water taxi to Ambergris where we rented a golf cart and pretty much explored the whole island.
| | |
| --- | --- |
| | The Chicken Drop in Ambergris Caye on Wednesday nights: Place your bet as to where the chicken will drop its load (and we're not talking eggs). Winner has to clean up the poop before collecting the cash prize. |
After Susan & Red left, a 45-minute water taxi trip took us to Belize City, a dirty, uninspiring little big city (pop. 50,000) to visit the Belize Zoo (below), check out Cucumber Beach Marina for future reference, and check out the shopping, finding a couple of hard-to-find grocery items.
BELIZE ZOO

The Belize Zoo is located 30 miles outside Belize City in the wild. It was started in 1983 after the making of a documentary film (and the Harrison Ford movie Mosquito Coast) left a couple dozen native Belizean animals unsuitable to be released back into the wild. Since then the zoo has grown to over 100 animals all indigenous to Belize, many endangered. The zoo is outstanding in that humans are able to visit the animals in their native habitat, as opposed to the animals being put into a human environment.

Several wild cats are native to Belize - the jaguar, ocelot, puma, margay and peccary. Other native animals include deer, owls, hawks and eagles, agouti, foxes, and other animals that now looking at their names I don't know what they are.

We had an extremely knowledgeable guide that greatly enhanced our experience. Steve (who's not super-big on zoos or botanical gardens) gave this zoo visit "2 thumbs up" (and they didn't even have a beer stand).

Rambo, the keel-billed toucan

(national bird)

April the Tapir

(national animal)

The fer-de-lance is one of the deadliest snakes in the world. According to our guide, if bitten, chewing and rubbing the acacia tree (right) on the bite could save your life. The thorns on the tree are hollow and inhabited by ants . . . so be careful . . .

Cats . . .
The zoo is well done in the wild with winding walkways, viewing platforms, and unique interpretative signage and graphics.
A tall (3+ ft.) Jabiru stork: stand back, he's very quick and accurate with that very long, thin beak of his
The trunk of the Ceiba tree has big "thorns". This tree was considered sacred by the Mayas.
Several troupes of monkeys: spider (left) and howler
Crocodiles are around in the Cays, even at Caye Caulker (cruisers are careful where they take their dogs to shore!)
Scarlet macaws
Parrot
As of this writing, we are contemplating our options of how best to depart this area and head to Belize's atolls: Turneffe, Lighthouse and Glovers. High-high morning tides are next week, which not only will give us needed water depth but also good light overhead. Be sure to check out our Position Report(s) as there should be some cool satellite views of our anchorages!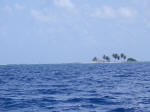 We leave Caye Caulker on a high-high tide late morning so as to pass over the skinny waters of Porto-Stuck and Ship's Bogue with as much water as possible under our keel (or, rather, to lessen the amount of sand we have to plow through). Fortunately, we were able to tag along after 3 other boats that called off depths to us so we made it to Water Cay without too much excitement (we saw less than 6 ft. several times but didn't slow much). Water Cay is near the barrier reef and on the edge of the commercial ship channel, affording us a brightly lit parade of cruise ships coming and going out of Belize City throughout the night. A cruiser on a catamaran initiated a happy hour for all anchored so we were able to meet a bunch of new cruisers that up to now we had only heard of on the single side band radio (SSB) NW Caribbean Net. The next day we sail east, breathing a huge sigh of relief to be in deep water once again. But that won't last long.
Belize's Offshore Atolls
Off Belize's great barrier reef lie three South Pacific-style atolls: Turneffe Islands, Lighthouse Reef and Glovers Reef. An atoll is a coral ring rising from great depths and enclosing a central lagoon. These Belizean atolls rise suddenly with little warning, accounting for numerous ship wrecks. Inside the atolls are a few cays, or islands, and there are just a few spots where the reef is barely deep enough to pass over safely. These atolls are known for their fabulous diving and snorkeling, as little traffic comes this way so fish and coral are able to thrive. As you approach each atoll in beautiful cobalt water, it is obvious where the atoll's coral rim is as the water inside is strikingly turquoise. (Remember, you need good light, i.e., the sun above or behind you, to adequately see the color change.) In some areas the reef breaks through the surface, but in most places it is only a few feet under.
A stop at Turneffe (30 miles x 10 miles) on the outer west side gives us protection from the east winds. We carefully dinghy around the inner lagoon, it's bank being too shallow for a dinghy in some areas. There's a nice resort on a cay, not a single person in sight and we hear they do not like cruisers so we didn't venture on shore. Diving is suppose to be good here, but from the little we saw it didn't look all that inviting.
Lighthouse Reef, about 25 miles offshore the barrier reef, is the gem of Belize's cruising grounds, although it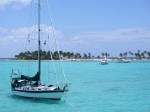 doesn't get much traffic due to its out-of-the-way location. From Turneffe we motor sailed due east (directly into the wind and waves), tacking numerous times to lessen the discomfort. The atoll is 25 miles in length and 4.5 miles wide. There are five cays (Half Moon being one of them) on Lighthouse and only three major breaks lead into the enclosed lagoon where depths are less than 30 ft. and in most cases too shallow for ARGO. It's got it all: Clear turquoise water, pretty beaches, a red-footed booby bird sanctuary, a great blue hole, miles of virgin coral reef and no way to spend a buck (although Steve did buy a beer from a local worker on the beach). Picture: Half Moon Caye, east end, with sister ship Querencia.
We finally met up with s/v Querencia, a Valiant from Texas, who are avid divers and Carl an amateur video photographer. Deborah dove with them numerous times, refilling her tanks from moored liveaboard dive boats. Around the rim of the atoll are moorings for dive boats and dinghies. Within feet of these, the outside wall sharply drops down, making diving along the wall (generally 20 ft. and deeper) easy and spectacular. Lots and lots of fish - big and small - and beautiful, colorful corals. Sighted were lots of big rays (spotted eagle and sting), turtles, schools of groupers including 2-3 ft. Nassau groupers, 4 ft. tarpons, green and spotted moray eels, large schools of big trunkfish, lobster, crab and conch. Probably the highlight was spotting a 4-5 ft. Goliath Grouper (Jewfish) lounging disguised against the wall on a shelf. He didn't mind Carl lighting him up and taking video, as the grouper proceeded to up-chuck the indigestible remains of 3 fish heads and a couple of lobster legs, all caught in living color. Another highlight for Deborah was NOT seeing any sharks, although a few divers had reported seeing a shark or two on other dives.
Lighthouse Reef: Snorkel and other pictures

Incredibly large lobster strutting his stuff fearlessly
Triggerfish and Honeycomb Cowfish
Purple sea fans and gold brain coral
Spotted Trunkfish
Chasing half a dozen languid Nurse Sharks with the dinghy
Conch on the move under our boat
Hermit crab resting on coconut pile
Basic liveaboard dive boat Nekton Pilot looks like a drilling rig; others are like luxury yachts
The underwater pictures were taken with a waterproof land camera while snorkeling; unfortunately, I can't take the camera deeper for dives.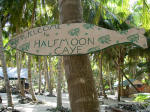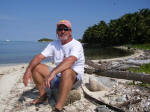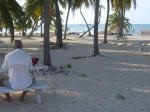 Half Moon Caye at Lighthouse Reef, is a Natural Monument and a World Heritage Site sponsored by the Belize Audubon Society, and is a must see. A small cay (half a mile long) with lush coconut palms and picnic tables at one end, a rustic camp for adventurous travelers into diving and kayaking in the middle. At the other end is the Booby and Frigate bird sanctuary with observation deck smack in the middle of nesting birds amid dense orange-flowering ziricote trees. Picture left: Half Moon Cay; Right: Happy hour ashore; ARGO with sister ship Querencia in background.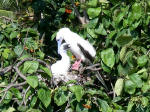 The Red-Footed Booby, Sula sula, although fairly common in the Pacific, are rare in the Atlantic and Caribbean (although we did see them in Las Aves, offshore Venezuela). They live on Half Moon Cay for 10 months, nesting in November and laying eggs in December. Both parents incubate one egg per nest for 7 weeks and the young remain in the nest until July (we saw them in May). Boobies are strong flyers, soaring over the ocean and then diving from great heights to catch fish and squid. Boobies are named after their apparent behavior: In times past, when hungry mariners approached their remote breeding islands the birds were curious rather than alarmed and thus were easily caught. Picture: Booby mom and baby in nest.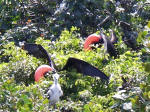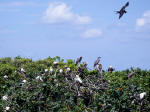 The magnificent Frigate bird with it's 7 ft. wingspan is a superb flyer and can be seen hovering in the air motionless. However, Frigate birds are poor divers and cannot land on water. Consequently they often harass the Boobies when they have returned from a day of fishing and rob the Boobies of their food, as we witnessed. The Frigate bird will also rob the Boobies' nests of young and/or eggs - this scene is the emblem of the Belize Audubon Society. Picture left: Boisterous male Frigate birds puffing up their red gullets to attract the females; fluffy white Booby baby, foreground, crying out for food. Right: Boobies and Frigates coexisting.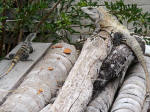 Green Iguanas populate Half Moon Cay which serves as an important breeding ground to this endangered species. Being the largest lizard in Belize, a full grown male can reach a length of 7 ft, with most of this being in the tail. Delicious flesh and rich eggs make it a delicacy in this area - it is known locally as "Bamboo Chicken". No, we have not knowingly eaten iguana. Probably tastes like chicken.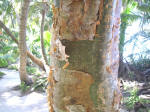 The Gumbo Limbo tree is nicknamed the "tourist tree" as it's eye-catching red shaggy bark is always peeling. The bark is a common tropical remedy for skin affections (sunburn, insect bites, rashes) and taken internally treats colds, fevers and urinary tract infections.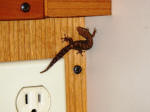 Koko is our diminutive liveaboard gecko. Geckos make popular "pets" for cruisers as they eat roaches and other bugs and are rarely seen or heard. Apparently Koko came aboard mid January, the last time we were at a dock, although he didn't make his presence known until April. Several sightings in one week, plus the lack of any bugs on board, lead us to believe Koko is earning his keep and is on the hunt for more food. Picture: Got a glimpse of him at night.
Lessons in survival: Staying in touch The Northwest Caribbean Net, a cruiser net on the single side band radio (6209 USB at 1400 zulu) meets daily. This net covers a large area, from the Gulf of Mexico (we picked it up leaving Galveston last year) and down to Panama when propagation is good. Boats underway are able to file a "float plan" so others know where you are and can make sure you arrive to your destination safely; cruisers can check in to let others know where they are; and it's a good time to have "traffic" and communicate with friends; weather is given; and there is an information needed/given section so you can get guidance on anchorages or information on fuel sources, customs and immigration, etc. It's primary function, however, is to help insure a safe passage by making others aware of your plans and whereabouts. In fact, two boats we know from Monkey Bay Marina on the Rio Dulce, within a 2-week period, were abandoned at sea and the cruisers rescued in good health as a result of these nets.
S/V Paradox, a catamaran, was heading north across the Florida Straits when a squall suddenly hit, capsizing their boat late afternoon. They were trapped in a small air space in one pontoon overnight. Their EPIRB had emitted only one blip, then stopped, not credible enough for the U.S. Coast Guard (USCG) to respond.

Fortunately, these cruisers were very disciplined in their check-ins on the radio. They had missed their 6:00 pm check-in which caused some concern for their cruising friends. When they missed their check-in the next morning with their friends and also the NW Caribbean Net, action was immediately taken notifying the US Coast Guard, the HAM net and their families. In the mean time, they broke through their pontoon, and were able to set off their EPIRB. They were rescued by a USCG helicopter that evening, 24 hours after they capsized. Their catamaran remained floating upside down somewhere in the Gulf Stream, tracked by the USCG.

Lessons learned: Know how to operate your EPIRB in the dark. Also, your check-in schedule should include a contingency plan in case you miss a check-in, which sometimes happens due to rough weather, a boat issue needing immediate attention, etc. This backup plan might include several alternate check-in times on various frequencies. If no contact is made after the scheduled attempts, then the action that should be taken should be made clear. These extra steps is what many cruisers don't do, but we can all learn from their experience.

(Above based on what we heard on the radio. These cruisers are in the process of writing up their experience along with what they learned to pass on to other cruisers.)

S/V Sailabout, a monohull, left the Galapagos Islands heading west to cross the South Pacific to the Marquesas. They were 700 miles out of Galapagos when their bobstay chain parted, causing the bow pulpit and forestay to pull free from the fiberglass bow and deck, allowing water to flood the boat in fairly rough seas. They put out a mayday call (fortunately, they had just bought a SSB radio before transiting the Panama Canal) which was picked up on one or more nets. They also set off their EPIRB, but did not have a life raft. It was fortunate that they didn't lose their engine - allowing them to motor with the waves - or batteries - allowing them to maintain radio contact. After having more than 3 feet of water inside the boat, they got that under control (patching and motoring with the waves). A cruising boat in the area headed their direction and kept nearby throughout the night, it being too rough to attempt a rescue. The next day, with their boat in gear and seacocks (the valves through the hull) open, they came along side a freighter and were transferred onboard underway, as they saw their boat head off, and eventually down, into the Pacific. The couple is Norwegian, the freighter that picked them up just happened to be Norwegian and they are currently on board heading around Cape Horn to Brazil where they will disembark.

(The above based on what we heard on the radio and from emails.)
After a wonderful, relaxing 3 weeks at remote Lighthouse Reef, it's time for an overnight passage south to Roatan, Honduras. As expected, southeast wind and waves make for an uncomfortable motor sail, so we sail a bit to the west for Utila, Honduras. Not expected, however, our autopilot decided not to work early on so we had to hand steer all the way (it wasn't that long ago when that was the only way to steer, how fast we forget). Uggghh. Ending up where we didn't want to go (Utila) early morning, the winds finally die down as we get in the lee of Roatan. We are then able to drop the sails and motor due east towards Roatan, Honduras in calming seas with a rising sun . . .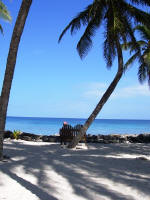 continued . . .
[ Back ] [ Home ] [ Up ] [ Next ] [ Top of page ]