[ Back ] [ Home ] [ Up ] [ Next ]
Cursor over pictures to display caption; click to enlarge then close out of that window.

Slide shows have captions; you may need to "Allow Blocked Content" if slide show does not load.
GUATEMALA
Part 7: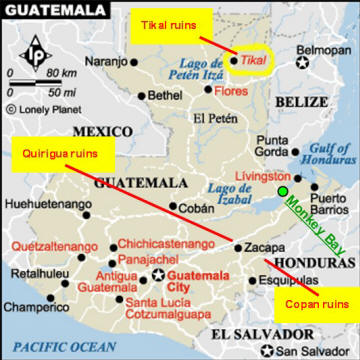 Click here to jump back to Guatemala Part 6 on Pictures/Journal - page 25.

In mid-November 2007, we travel from the Rio Dulce to Guatemala City for shopping, then on to Antigua for another "fix" (we love Antigua). From there a couple-hour trip, on probably the best highway in Guatemala, takes us to Guatemala's southern Pacific coast and the coastal village of Monterrico. Here a mighty surf crashes onto a very long, wide black volcanic sand beach. Guatemalans like Monterrico as a low-key, weekend getaway. It is also known for its turtle reserves and at the right time of the year the public can release newly hatched turtles to the sea - which was our primary purpose for going. We made the trip with no expectations, and our expectations were exceeded. (See box below for Trip Recommendations.)
LOOFAH

This is loofah (those natural sponge-like things used for bathing) country. This wet-island environment is ideal growing conditions for this cash crop. Loofahs grow on vines on trellises as long, green "pods", up to 3 feet long. There is one crop a year, then the vine dies, it is cut down and a new crop of vines planted the next year. 20,000 - 25,000 loofahs are harvested a year, and they are sold for Q10 ($1.30) each.
A main draw for tourist, like ourselves, is the Tortugario Monterrico, a turtle hatchery. Leatherback and olive ridley turtles nest on this beach from June to November. Their nests are moved to a secured hatchery to protect them from predators and poachers. From September to January - when the babies are hatching - a ritual takes place every Saturday evening on the beach in front of the Tortugario: Sunset turtle

races. For a small donation, you get your own newly hatched turtle (for us it was leatherback), and at the "start" sound, you put your turtle on the start line and watch him (or her) scramble down the beach to the sea. The "owner" of the first turtle to make it gets a free dinner. But there is a catch. I was worried about human-handling of the turtles and how it might be bad for them, but that's nothing when you see the big surf the poor things have to battle in order to make it out. Most turtles lose ground as a big wave carries them backward. Then they regain their footing and sense of direction and try again, get thrown back again, and again, and finally they all make it out to sea. We were there for the crowded Saturday night event; but they also release every night (without the contest) so we returned the next night to release more turtles.

This is a rather laid-back place. Besides bumming on the beach and doing the turtle thing, there's a few eco-things to see. We took an early morning paddled (no motors) boat trip around the canals, swamps, lagoons and mangroves, which was very serene and photogenic.

Some things have changed since the Lonely Planet Guide (ed. 2004) was published - some for the better and some for the worse. For the better, we saw virtually NO trash on the beach, on our mangrove boat trip or even walking around the neighborhood. For the worse, or at least controversial, is the construction of a brand new, private bridge from the mainland to the island. Prior to the bridge, pedestrian and vehicular traffic had to take lanchas and ferries across the canal to the island. Now with the bridge, all the locally-operated lanchas and ferries are being put out of business. Going over, our van driver paid the $6.50 toll; coming back a different van driver refused to use the bridge (support your local economy) and so we braved the ferry-barge ($3.25).
MONTERRICO TRIP RECOMMENDATIONS

We stayed at, and recommend, Hotel Pez de Oro (tel. ? 7204-5249 or 5204-5249 ?) and had one of their best rooms (#13, Q390/$52, although all rooms cost the same, I think), a comfortable, thatched-roof "cabina" upstairs with a private ocean-view balcony with hammock, 2 queen beds with mosquito netting, ceiling fan, no hot water,

good natural breeze and the sound of the crashing surf. This is the most "upscale" place in Monterrico that we found, only surpassed by the brand new Dos Mundos. Dos Mundos ($95+, includes breakfast) is a "resort" used by non-English speaking tourists (i.e., wealthy Guatemalans), with a black sand beach but since they don't want to get their feet sandy there is an infinity pool at the beach edge. We enjoyed a good lunch (around the pool) and dinner there - probably the best food you're going to find in the area.
We originally made reservations (then cancelled upon inspection) at Mangles based on Lonely Planet (ed. 2004), which we found to be VERY much out of date. Mangles might be ok for a backpacker (suppose the description "good value" should have tipped us off!) - we describe as "scuzzy" at best. All other lodging options appeared questionable and similar to Mangles.
For transportation, we used Atitours van service (door-to-door service). We liked hanging out at Johnny's (backpacker place) on the beach for afternoon/sunset cocktails. NOTE: The black sand beaches get VERY HOT so be sure to take suitable beach shoes. (Nov. 2008)

Late November 2007, Deborah's Dad, Chuck, came to visit us in Guatemala for 2 weeks. We met him in Guatemala City and enjoyed our first meal together at a very fine restaurant specializing in authentic Guatemalan cuisine and atmosphere, the men-only wait staff wearing his own pueblo's traditional dress. The next day we headed off to lovely Antigua, a place we knew he would love. We spent a wonderful Thanksgiving there, enjoying a traditional but fancy holiday dinner at the 5-star Casa Santo Domingo Hotel. Other

highlights were another great

dinner at the equally upscale Mezόn Panza Verde restaurant while listening to live Cuban jazz from the Buena Vista Social Club; and another great dinner (we love our food!) at La Pena del Sol Latina while listening to Andino (Peruvian pan flutes) music. A field trip to a neighboring pueblo, San Antonio Agua Caliente, to visit the homes and families of our little textile street-selling friends, Vincy and Flor, gave Chuck another taste of real Guatemala. Sightseeing the various monastery and convent ruins was of interest to him as well as poking around in Antigua's nice shops.

Part 2 of our trip was to Lake Atitlán where we stayed in the awesome La Casa del Mundo, our rooms perched on the side of the sheer cliff with spectacular views of the lake and surrounding volcanoes. We visited the well-known pueblo of Santiago Atitlán for more local culture - men wear traditional dress here and their woven textiles are well-known. We enjoyed an afternoon of relaxing at our hotel while taking in the gorgeous view and enjoying a fire in our outdoor fireplace to take the chill off. Chuck certainly enjoyed the group dinners as this place always has a very international guest list.

Part 3 took us back to Guatemala City where we then flew to Flores, an island on Lake Petén, and stayed a night. We then spent 2 nights in the park grounds of the Tikal Mayan ruins. We hiked all over the large park grounds, did sunrise at the Grand Plaza, and checked out various ruins and the 3 museums. Perhaps the biggest highlight of Chuck's entire trip was climbing to the top of the Temple II pyramid, with the panoramic view of Grand Plaza and surrounding area. He definitely felt like he was in the jungle (which he was!) with the jaguars, howler monkeys, parrots and other wildlife making their presence known; and the fact that the only electricity available in the park is made by the hotels' generators for only a few scheduled hours a day. All part of the experience!
Flying back to Guatemala City (flying saved us many, many hours of bus travel) we checked out the various and well-done museums, the pleasant zoo and unique (jade) shopping. As always, Steve had pre-selected several great restaurants that we knew Chuck would enjoy.

Chuck, who is very well traveled, enjoyed his entire trip more than he could have imagined before coming. He was very impressed with the varied, gorgeous and interesting sights of Guatemala, the friendliness of the people, and in particular the very unique and colorful culture of this Central American country. Now he understands why we've spent 2 years in Guatemala! As a keepsake for Chuck of his great trip experience, we put together a slide show, with captions, which we share with you here.


Just over an hour's drive from the Rio Dulce is Quiriguá, another Mayan archaeological site set in a beautiful tropical park atmosphere. While Tikal is known for its sheer grandeur, and Copán is known for its well preserved carvings, inscriptions and tunnels, Quiriguá is known for its very tall and intricately carved stelae - the largest known in the Mayan world. The largest measures 36 feet (26 ft. above ground and about 10 ft. below ground) and weighs approximately 130,000 pounds.
The write-up on this trip has been included on the page that also has the write-ups on the Maya ruins of Tikal and Copán. Click here to go to the Quiriguá Maya Ruins write-up, slide show and trip recommendations (located on Pictures/Journal page 20).
COPAN MAYA RUINS '08


Deborah had been to Copán in 2006 and wanted to get Steve there before we left the river for good. So a group of six cruisers went by private van for 3 days/2 nights (Steve liked it so much he wished we could have stayed another night or two). The town of Copán Ruinas reminds us of a mini-Antigua, with a good selection of nice places to stay and restaurants. The main ruins, called just Copán, are a short tuk-tuk ride


away and we had a

good English-speaking guide take us around the ruins and tunnels. We enjoyed the local museum in town and the big,

very nicely done museum (stateside quality) at the archaeological site. So as not to repeat things here, please go to the original write-up and slide show

of Deborah's first trip here in 2006 (and recently added trip recommendations), Copán Ruins 2006 write-up and slide show, and 2008 trip recommendations.
On this 2008 trip, however, we saw and did things that were new from the original trip and are highlighted below.
LAS SEPULTURAS RUINS

A couple of mile walk from the main ruins are the excavations of Las Sepulturas, most likely a large residential complex for Copán's elite families. A local caretaker became our unofficial guide. Using Spanglish we were able to understand the layout and what was what (as there are no signs). There were several different "neighborhoods". Each neighborhood had several houses surrounding what was probably a large garden area. There seems to be one house that is larger than the others, where the head guy lived. Our guide told us that the head guy had many "concubines", as he put it, that lived there. The beds consisted of stone platforms about the size of a double bed. I'm sure they padded it with something.

Another neighborhood appeared much larger with bigger structures than the others. We were told this is where the really important people lived. Here, we saw the Palace of the Officials which had outer walls carved with large figures. Inside is a very long, beautifully carved, stone hieroglyphic bench. Another building was the "hospital". In it was a stone bed, the head of it which was an (stone) incline so the patient could sit up comfortably. A room next door was where medicinal herbs, animals and whatever were kept and used.

In front of the main house in each neighborhood, there was a tomb deep in the ground. This is where the nobility was buried. From the picture, you can see a side chamber (actually there were several) that housed jade, bones and other valuables for the dead. (The rulers of Copán were buried under the pyramids and temples.)

A young ceiba tree - its big thorns protect it. As it matures, the thorns get smaller and eventually disappear. The ceiba tree was the "tree of life" for the Mayas.

ON THE TOWN

We enjoyed several good meals. Here at Carnitas Nia Lola, the waitresses serve bottles of wine, and hot queso (over flame) 'n' chips on their heads. Saw no casualties. Their specialty is grilled meats and chicken - and it was excellent.
MACAW MOUNTAIN BIRD PARK

Macaw Mountain, just a 10 minute tuk-tuk ride from town, is a bird sanctuary and nature reserve for dozens of rescued and donated parrots, macaws and toucans. It is set in a river-side, heavily forested park. All birds are carefully maintained and are able to roam freely in this environment. In addition, guests are able to hold them.

They also have a very large aviary cage for those birds that are undergoing de-stressing, and there were a few.

The pictured macaw with the white collar, along with a macaw that Deborah held, belonged to a fellow cruiser on the Rio Dulce. She no longer could take care of them on her boat so she donated them to the reserve. The white collar is to keep it from pulling its feathers out. Our guide said both of her birds were doing very well.

Shown, Steve bravely inching his way towards this toucan - this is as close as Steve would get to holding a bird.

Macaw tidbits: They can live 100 years in captivity and exert 700 pounds of beak pressure.

This property is also a small coffee plantation where they grow, harvest, roast and ground their own Coffee Miramundo. A separate cafe gave us a chance to sample their coffee and cappuccino - yum!

GUATEMALA, early 2008: Before leaving the Rio Dulce, Deborah along with several other cruisers, took a field trip to Lagunita (aka Laguna Salvador), a nearby village down the Rio Dulce. (Steve stayed home to do some boat projects - seems he gets more done when Deborah's not there to supervise. Hmmm.) The impetus behind the trip was a former art teacher now turned cruiser, who had lots of art supplies onboard, ideas and the determination to give art lessons to these children. Long story short, we had a tour of their village (other cruisers were living in the village attempting to show them how to properly grow, cultivate, rotate crops, but the frustration factor was high, as these people only live day to day

and cannot understand planning for the future). Anyway, the kids sang us songs (in both their native tongue Quechi and Spanish - some even know a little English as a third language) and they had artfully made thank you cards for us. Art classes took the form of making t-shirts using leaves the kids picked from their jungle and acrylic paints to "imprint" the designs; and a separate session painting. A break in the afternoon and some of us took a trip through the canals and lagoons in cayucos - the usual means of travel on the river for the indigenous. Notice the low freeboard!

After a year and a half of living in Guatemala, and really enjoying it, we are sad to leave but have so many great memories to take with us. As we prepare to leave Monkey Bay Marina, the howler monkeys are making frequent visits (though rarely did I have my camera handy) and so are the orchids.
We cross the shallow bar at Livingston to leave the Rio Dulce without incident and head for Belize. A few days after leaving, we hear that there has been an uprising on the Rio Dulce of the indigenous: Seems that one of the village's chief had been arrested in Guatemala City (don't know why) and the locals wanted him released. They kidnapped several policemen from the police station, took them hostage on their own police boat (and then went to refuel), then headed down the river. It was short lived. Within the week, however, 2 more incidents had occurred: They stormed official offices in Livingston, and another time took 2 Belgian tourists hostage. All were short lived with no real harm done. Part of this is probably related to the new president, whose campaign platform was to crack down on violence, etc. (See box below And The Winner Is . . .)
Halloween on the Rio Dulce: Can you guess who we are?

AND THE WINNER IS . . .
The Guatemala presidential election took place in the fall. Alvaro Colon, leftist, won by 5%, being supported by the rural population (outside Guatemala City and Antigua). He ran on the platform of security and violence issues. Although over a dozen candidates vied for the office, it's really a 2-party system. The elections were carried out in a calm and civilized manner. After the election, we heard that President Bush called Colon and informed him that if he should get cozy with Venezuela's Hugo Chavez, then the U.S. would have to cut off all its aid to Guatemala.
The other winner was Guatemalan Carlos Penas as the Latin American Idol. We were in Guatemala City during the finals and at the moment he was announced as winner the Zona Viva (the nice, safe area we stay in) broke out in a loud hullabaloo with big firework displays.
Continued . . .
[ Back ] [ Home ] [ Up ] [ Next ] [ Top of page ]