VALIANTs

Valiant owners, L-R: FRAM (Marian/Lee), ARGO, GOSI (Tom/Barb), CIBONEY (Art/Judy)

GOSI heading out southbound

ARGO and Silent Passage, another Valiant 42

Mega-yacht passing through draw bridge
SINT MAARTEN (Dutch) / ST. MARTIN (French) - JANUARY 16, 2004: During our overnight passage from Barbuda, the visibility was excellent and we could see Antigua, Montserrat, Nevis, St. Kitts, Statia and Saba in the distance. We passed just off the south coast of St. Barts early morning, arriving at Simpson Bay, southwest coast of Sint Maarten just after sun up. We have since moved inside to Simpson Bay Lagoon, a 12 sq. mile lagoon. We chartered out of St. Martin about 10 years ago, but did not come to Simpson Bay then.

This island, about 7 miles in each direction, is divided across the middle: north side is French and south side is Dutch. The Dutch took the south side because of the great salt ponds, shipping huge quantities of salt back to Holland for the herring industry. The French produced tobacco and sugar on the north side. As these industries dwindled over time, the island was made completely duty free in 1939 as a way to combat this downturn, and is greatly responsible for it's popularity today. They truly function as two separate countries: separate customs/immigration, different currency, language, telephone system, etc.. The border runs erratically through the middle of Simpson Bay Lagoon and isn't marked: If you're anchored on the Dutch side, you pay $10/week; if you're on the French side you pay nothing. For some it depends which way the wind is blowing that day as to which side they're on!

We are here to have the boat hauled for a bottom job (scrape, pressure wash, sand and repaint bottom of boat with antifouling paint) and have certain systems checked out. We'll do most of the work ourselves. We are also doing a multitude of boat projects that have been accumulating over the past year - nothing major, but a lot of them. This is the time and place for them, as the weather is "cooler" (low-mid 80's daytime, low 70's nighttime), there are two large marine stores conveniently located (the best in the Caribbean), other marine services close by, and everything is duty free! This makes a big difference when doing boat projects.

Upon our arrival here, we met up with three other Valiant 42s, all who we had met at the Annapolis Boat Show in previous years. They had traveled down here from Annapolis with two other Valiants, who had already moved on south. It was fun to check out each other's boats and compare notes. They have since left to go south, but I'm sure we'll catch up with them later this year. A few days later, another Valiant 42 anchored next to us in the Lagoon, one we had not met previously. As usual, we checked out their boat and compared notes. We have met many new cruisers here and joined in a dinghy raft-up one evening for happy hour.

We have so far been very busy preparing for the haul out, and organizing, shopping for and doing boat projects, so haven't done much sightseeing so far. We have found the newly reopened Simpson Bay Yacht Club (i.e., open-air bar) which is literally located within touching distance of the Simpson Bay draw bridge, which lets boats in and out of the Lagoon three times a day. The Lagoon is home to many, many mega-yachts, and it is great fun to watch them parade through the bridge during happy hour. Such decadence. We have also checked out the Sunset Beach Bar, which is located at the very end of the airport runway. Planes land/take off right over the beach at eye level. It's also fun to watch brain-dead idiots hang on to the fence as a 747 passes just overhead, propelling them into a prone position, and others chasing their belongings in the sand storm as they're blown into the beautiful turquoise sea. The bar is located just out of this hazard zone.

After the bottom job, we may take off to St. Barts or Anguilla, but will return here for the Heineken Regatta March 5-7 (Steve's favorite beer). This is a hugely popular event and hundreds of sailboats and cruisers show up for the races and parties. There will be many mega-yachts making an appearance here, including the Victoria's Secret 318 ft. yacht called Limitless (they also own The Limited clothing stores). Speaking of which, a mega-yacht provisioning service had overstocked on cases of Heineken that were expiring Jan. 31 and announced on the local morning net they were selling them for $5/case - Steve flew out of bed and was over there in 10 minutes flat!

Passing Philipsburg, St. Maarten (cruise ship base)

Steve going up the mast doing boat project

Dinghy raft-up / happy hour
Sunset Beach Bar

Cruisers' flee market: one man's junk, another's treasure!

Most original paint job

Queen Mary II, world's largest cruise ship, debut cruise, in Philipsburg

Frank & Nina - they run the St. Maarten Yacht Club bar at the popular draw bridge

Secluded beach at Cliff Hanger Bar on west side

Young French girl, Anise, delivering water for tanks (we don't make water in Lagoon); also sells wine, beer, soda and Fr. roasted chickens

A few mega-yachts

Modest yacht, Big Eagle, new owners from Corpus Christi, TX
LEX & LINDA VISIT:

Lex and Linda

At Yacht Club

Lex & Linda at Maho; race in background

... another Heineken party; race results behind

Lex

Art Cars here, too

Sunset from Simpson Bay

SINT MAARTEN / ST. MARTIN - continued
| | | |
| --- | --- | --- |
| | | |
| Simpson Bay Lagoon in foreground | Marigot, Lagoon in background | Marigot Bay, Ft. Louis Marina |
We hauled ARGO at Island Water World in Simpson Bay Lagoon for a bottom job and had her painted hull cleaned and polished. This was also a good time to get certain boat projects done since the boat was on land. For those 5 days, we were able to stay on board at night, ate meals out and used their coldwater-only shower facility which felt good after a long hot day of dirty work. The boat yard did the more "skilled" (demanding) work and we painted the bottom 2 1/2 times with the new Interlux Micron 66 antifouling paint. The paint applied back in the States does not work down here, and this new paint is suppose to be pretty good in Caribbean waters. We'll see. The boatyard used a crane with slings, instead of a TravelLift, to lift and move ARGO, thus we had to detach the backstay - the backstay supports our 60 ft. mast so it doesn't fall forward. We used a rigging service to detach, reattach and re-tension the backstay as this isn't something we want to chance doing wrong ourselves with our limited experience in this area. We were very pleased with the boatyard services and ARGO really looks great now. Afterwards, we rewarded ourselves and rented a car to check out the island and beaches, including Orient Beach. Sorry, no pictures as cameras are not allowed on this French clothing-optional beach. One week later Deborah's buns peeled from over-exposure.
Since we were on a roll, and had guests coming to visit, we did "spring" cleaning, too. Outside, we cleaned and waterproofed all canvas (bimini, dodger panels, weather cloths, cockpit cushions), polished all deck hardware and stainless and basically got her pretty darn spotless. Lucky us, we don't have much teak, so didn't have to fool with that. Inside, the Ultrasuede cushions were given their first general cleaning ever (Ultrasuede has performed superbly) and other general cleaning. Other minor boat projects continued. On Valentine's Day, Steve electrified the head for Deborah. That means that now she just has to push a button to flush the toilet, no more pumping manually !!! : )
Lex and Linda from the Annapolis/DC area came to visit in March. We know Lex from T.A.S.S. in Houston from many years ago. We would stay on their boat when attending the Annapolis Sailboat show each year. Lex and Linda are preparing their boat and themselves for cruising, so they were very interested in ARGO and our cruising lifestyle. During their visit, the 24th Annual Heineken Regatta took place. We frequently enjoyed a parade of as many as 40 boats going in/out through the draw bridge as the Regatta drew nearer. We took part in the daily Regatta parties and roamed the island in search of the best spectator spots for the various races. Race courses varied each day with a big party at the finish line location. A late winter northern (the "Christmas winds") came in just in time for their visit and the Regatta, bringing steady 25-35 knot winds and seas up to 13 ft.. Consequently, we did not take ARGO out of the Lagoon. It also made for some very interesting racing conditions, including several de-mastings and a severed/runaway race marker that had boats trying to round this moving target.
The Heineken Regatta is the kick off of the season's Caribbean racing series. Over 250 boats entered to compete in 20 classes over a 3-day period. Points are accumulated from each race to produce the winners. Anybody can race, and there are even classes for charter boats (lots of Moorings boats, etc.). No, WE do NOT race our house.
The Regatta highlight this year was the debut of the two new turbo sleds: the maxZ86 monohulls - Pyewacket, owned by Roy Disney, and Morning Glory, pictured below - with the new

CBTF technology - "canting ballast twin foil". These are identical 86 ft. boats that have a lead-bulb ballasted keel (the keel is actually only a slender strut) that swings from side to side in 7 seconds. The canting/ballast keel swings to the windward side to offset the side force of the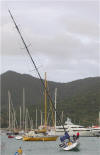 wind and helps the boat stand upright. You have seen a racing crew sitting on the high side of the boat? This is the same concept - and the crew still sits on the high side. They also have dual foils/rudders fore and aft that operate in the same or opposite directions for both steering and leeway control. Coming back into the Lagoon, it is strange to see these boats heeled way over with no sails up! The first time we saw this, we thought the boat had run aground. Although Morning Glory won, they competed very closely and are doing match races afterwards to learn the boats better, before going on to Antigua for Race Week. (Trivia: Pyewacket is the name of the witch's cat from a 1950's Disney movie. The boat has a cat painted on it's stern and sides.) On the first picture of Morning Glory above, note the very substantial spinnaker pole!
Steve Fossett (around-the-world balloonist) set the Regatta around-the-island record here in St. Maarten last year in his 120 ft. catamaran Playstation. Fossett's around-the-world rival balloonist, Jurgen Epple, was going to race his new 60 ft. trimaran Paragon (reportedly more agile) here this year in an attempt to break Fossett's record, but equipment problems prevented this. Too bad as they had really hyped it.
On one race day, we went to the west side of the island to get a good close up look of the races. St. Maarten's most popular radio station was doing a Heineken beer chugging contest at the Sunset Beach Bar (at the end of the runway) and zeroed in on Steve to compete with a guy (via telephone) at the Cliff Hanger Bar around the island. Upon queue, Steve had to chug a [warm] Heineken and beat the other guy by half a second! Way to go Steve! He got to be on the radio, too. By the way, the radio station is Island 92 and is by far the best station I've ever heard, including in the States. They "specialize" in classic rock and blues, and play jazz, local and of course Jimmy Buffett! There are only 2 DJs (who are actually pretty good) and frequently put it on auto random play from their very extensive classic rock library (Deborah's favorite) so solid music for hours and hours; weekends it's virtually commercial free all day/night long; and a great concert series. By the way, Brits Steve and Jane were representing the radio station, and are true professional party animals: As the early a.m. DJ can't stay out late, Steve and Jane attend all parties and bar scenes on St. Maarten/St. Martin and report back on Fridays on the island happenings. What a job!
During Lex and Linda's visit, we taught them the essential cruiser game, Mexican Train (dominoes). Linda and Deb would stay up to the wee hours of the morning (3:30 one time) playing it and listening to good tunes until they couldn't count dots anymore. Next morning girls would sleep in, guys would go to shore for croissants. Lex and Linda became indoctrinated on the need for proper foul-weather gear: Due to the high winds even in the Lagoon, dinghy rides to and from shore were quite wet. This is the first time Deb sported full gear for a dinghy ride, but don't think Lex and Linda believed us. Lex and Linda treated us to many nice meals ashore, including an exquisite dinner at Bistro Nu on the French side. Chef Steven cooked a couple of cruiser gourmet dinners for the group, including Thai stir-fry shrimp. During their visit, we routinely rode the public bus ($1/person) to easily get around. On their last day here, we toured the rest of the island via rental car, traveling "inland", going to several nice beaches, and eating BBQ at Grand Case (we remember this from years ago). The ribs are still as good as they were back then.
| | | | |
| --- | --- | --- | --- |
| | | | |
| Stone fences, palm trees & cows inland | Grand Case, north coast ... | ... cooking 'em ribs ... | ... Deb, always last to finish. |
| | | | |
| Orient Bay, Ile Pinel, east coast | Anse Marcel, north coast | Galleon Beach, nice and secluded | Oyster Pond area, Dawn Beach |
St. Maarten has been a wonderful stop for us. We like the French side a lot, but the Dutch side is more economical given the exchange rate. The weather in general has been very pleasant, low-mid 80's daytime and low-mid 70's nighttime. There are cruisers, racers and vacationers from all over Europe, U.S. and Canada so it has been quite a cultural mix. English is the language most heard here so easy to communicate. We joined the St. Maarten Yacht Club with a temporary membership. Frank and Nina (they run the bar at the Club, pictured above) decided Steve needed a "Frank and Nina haircut" so Frank brought in his electric clippers before hours and buzzed Steve out behind the bar. Sorry, no pics, it's short, but good ... no hat needed ... and Deborah got off the hook this time! While here, we had our U.S. mail forwarded to us - it had been 6 months since the last time we got mail. By now, those things pretty much take care of themselves. We are now waiting on warranty replacement parts for our B&G instruments, then we'll head off south.
OUR CRUISING 1st YEAR ANNIVERSARY
It has been a wonderful year. We have learned more about sailing in the past 12 months than we thought possible. ARGO has over 4000 nautical miles under her keel now. We had a few scares along the way but all in all it has been great. We moved quickly for the first four months and then started to slow down and enjoy the cruising lifestyle. We have been to many islands, met a lot of great local people and other cruisers. We have been invited to parties at private homes and many get-togethers and BBQs with cruisers.
It is not easy to cut the dock lines at the home marina and leave family, friends, and the security of jobs. We stay in touch with email and occasional phone calls. We hope our family and friends can visit us. Steve doesn't miss a real job and Deborah does sometimes. But we are sailors and that is our profession now. Too bad there is no paycheck. Have to live cheap.
We celebrated St. Pat's Day in the Bahamas, Memorial Day in Puerto Rico, Deborah's birthday in Martinique, 4th of July in St. Lucia, Steve's birthday in Los Testigos, our wedding anniversary and Thanksgiving in Margarita, Christmas in Guadeloupe, New Years in Antigua and now our cruising anniversary in St. Maarten.
Amazingly we live well together 24 hours a day on a 42 foot vessel. We also depend on each other for our safe passages day and night. It is comforting to know you can sleep below while your spouse stands watch from midnight to 0400 hours keeping an eye on the sails, boat systems, navigation, weather, sea and watching out for other vessels.
We also have become somewhat skilled in repairing systems such as engine, generator, water maker, plumbing, electrical, outboard and the rigging. One has to become self sufficient in many respects when you leave your home port even if you have a new boat. Lots of tools and spare parts are needed aboard.
We look forward to another great year doing what we had planned for so long.
THE HAUL OUT:

Using a crane

They scraped, pressure washed, sanded, applied primer, cleaned/polished painted hull


We applied bottom paint (2 1/2 coats), polished stainless, cleaned/serviced strut/ prop/ through hulls/ instrument sensors/ zincs

THE RACES:

Preparing to start ...

... a race is on

Morning Glory, Pyewacket, approaching final finish line
Friends Jeff & Wendy (Grenada) on Yocahu come in 2nd in class
BEER CHUG CONTEST:

Steve on the radio; other Steve & Jane, professional party animals

Chugging (how juvenile)

"Yuck, the beer was warm"
Lex R. in Wildthing, with "winged" deck that carries barrels of water as ballast, which he pumps from side to side as needed. He singled-handed across the Atlantic, got into major storm and had major gear failures, thus not making it to St. Maarten in time for the Heineken Regatta.

ST. MAARTEN
Beverly cheating at Mexican Train (that explains the big smile)

Ahhhhh . . .

Another beach bar (Sunset Beach)

OK, Mom, you wanted more pictures of us ...
SINT MAARTEN /ST. MARTIN, continued, and ST. BARTS
We are still waiting for our B&G warranty replacement parts (it's been 6 weeks - another story in itself). In the meantime, we went to St. Barts (anchored in Gustavia and Colombier) for a few days and came back. Knowing we were here for a while, it was convenient for Jose and Beverly, sailing friends from Houston, to join us for a visit. As it turned out the weather turned spectacular and we sailed again to St. Barts (Gustavia) for a few days, and back to St. Maarten.
St. Barthelemy, or St. Barts, is the St. Tropez of the Caribbean: It is the place for the rich and the richer to come. It is, of course, very French, and has just about every couture and high-end jewelry store known to man here. Major shopping sprees occur here to ensure they are among the best dressed back in Paris - or wherever. The very pretty main town of Gustavia, enveloped by high hills, surrounds a long U-shaped inner harbor that accommodates boats med-moored (stern-to) on three sides. We saw many mega-yachts here that we "knew" from St. Maarten. The large outer harbor provides a nice anchorage for "regular" boats, ARGO, as well as mega-yachts and the occasional cruise ship.
Click here for a not-to-be-missed panoramic of St. Barts !
St. Barts' island activities included window shopping accompanied by sticker shock, the compulsory cheeseburger-in-paradise outdoors at Le Select (Jimmy Buffett), hikes up both sides of Gustavia for wonderful photo ops and touring the small island with Jose and Beverly via rental car. On the northern coast is the long and prestigious Baie St. Jean beach. The small-craft airport's flight pattern is directly over the hilly roadway, with the runway starting at the foot of the high hills and ending at the sandy beach, making for interesting watching. A beer and a soda from a beach bar cost $12 bucks here - hmmm, could have bought 4 cases of beer for that in Margarita, Venezuela. We also enjoyed the secluded Saline Beach on the south side, only accessible by a short trek. Here we saw an assortment of sun bathers, including full birthday suits and a gay contingent at the far end with even tans. That aside, it was a very nice, quiet beach and would have liked to spend more time there. Back in St. Maarten, Jose and Beverly got the benefit of our knowledge from our extended stay here and saw the highlights of Marigot, Sunset Beach Bar, yacht club / bridge openings and Limitless was back.
ST. BARTS

Picturesque Gustavia, looking north (above) and west (below)

Saba in background

Baie St. Jean (above with Jose & Beverly), and below

Beds on the beach at the bar/restaurant (seriously) - what more could you ask for? Those French, they think of everything!

Over the hill and down to the beach ... airport runway


Le Select,St. Barts for a Cheeseburger in Paradise