HOUSTON, TEXAS - MAY 30, 2005 - MARCH 20, 2006:
Below are Home page summaries during our stay in Houston.

June 3, 2005, Houston :

We, and ARGO, are back in Texas after making a 2,300 nautical mile (2,650 miles) trip from Venezuela to Houston, arriving May 30, 2005. Unfortunately, ARGO has to go back to the factory for cosmetic interior warranty work. We are unsure of our cruising plans as of now but hope to be back out there soon. Keep checking for updates.

We have cruised for 2-¼ years, logging 7,200 nautical miles (8,300 miles). Our travels have been in the Bahamas, Eastern Caribbean, South America and Northwestern Caribbean. We have visited 24 countries, 58 separate islands and anchorages too numerous to count. We have endured a couple of tropical storms and narrowly escaped hurricane Ivan. Our journey has included 38 overnight passages. We have met (and logged in) over 400 cruising boats (800 people) that we have met along the way, and continue to stay in touch with many.

Nov. 1, 2005, Houston :

After 5 months at the Valiant factory, ARGO will be trucked back to Houston mid-November. We are very pleased with the work that Valiant has done, including various maintenance and improvement projects. In some respects, she's like new and should be all ready to continue cruising. Once in Houston, we will reload our personal belongings (hopefully putting back on only half of what was taken off!) and prepare to set sail in December. Our plans are to head south to the Western Caribbean, making our initial stop in Isla Mujeres, Mex. - we'll be in contact with cruising friends in that vicinity to see if hurricane Wilma left anything intact. At this time, we plan on staying in the Western Caribbean for a year or two, slowly making our way down to the San Blas islands off Panama.

Meanwhile, we have had to learn to be dirt-dwellers again while living at our little condo in Houston. We've caught up with family, friends and ex-coworkers, and spent a month visiting family in Missouri and Kansas. We have also made several trips to the Valiant factory, located just north of Dallas on Lake Texoma.

One of these visits included Valiant Yachts' 30th-year anniversary party weekend! We met 25 other Valiant owners, and were thoroughly entertained by guest speakers Robert Perry (he designed the Valiant), Mark Schrader (he's done 2 solo-circumnavigations in Valiants), Nathan Rothman (original founder of Valiant Yachts) and Rich Worstell (owner of Valiant Yachts for past 25 years).

March 8, 2006, Houston :

We're sure many of you have been wondering what has happened to us in the last few months. Yes, we did get ARGO back in Houston mid-November and had planned on a December departure. Deborah's persnickety teeth have caused her extensive dental work to go on much longer than anticipated. But now we have vacated the condo and are on ARGO full time waiting for favorable weather.

We are headed south to Isla Mujeres, Mexico. (Isla Mujeres did not suffer as much damage as nearby Cancun or Cozumel from Hurricane Wilma, we hear from cruisers there.) It will take us anywhere from 5 to 8 days to make the passage, depending on winds, seas and the Yucatan Channel opposing current which can be wicked. Unfortunately, the weather forecast for the Gulf is crappy for the next week, predicting up to 40 knot winds on the nose. We'll wait.

March 19, 2006, Houston :

Believe it or not, we finally have a favorable weather window and are planning to sail tomorrow, Monday, March 20. We expect about 48 hours of northerly winds which hopefully will provide a "robust" sail towards our first destination, Isla Mujeres, Mexico. We will do our "easting" these first few days. As the wind clocks to the east and eventually south, we should be in position to sail more south. This is a 700 n. mile passage and we expect it to take about 5 days.
This was our first trip back to the States since we left Houston on March 1, 2003. Being dirt dwellers again didn't agree with us much - during our longer-than-expected stay we got fatter, poorer and more bored as time went on!
Our only reason for coming back to the U.S. with ARGO was so ARGO could go back to the Valiant factory for extensive cosmetic warranty work. She was at the factory for 6 months, arriving back in Houston mid-November. The work Valiant did was excellent as expected, and we took this opportunity to have her systems checked out and add a few minor things to her.
What was not anticipated was the extensive dental work that Deborah ended up having done here. Although her work was scheduled to be done by December 1 (end of hurricane season) she didn't finish until March (due to sensitive/finicky bite issues). (While we have found medical care excellent in some places we have traveled, beyond-basic dental work is not something we wish to experience abroad. In some places, "dentists" only do extractions. No thank you.)
Fortunately, we had kept our condo in Houston and a good friend lent us her extra car for most of the time, so that helped cut expenses during our stay. However, we still found stateside living to be significantly more expensive than what we have become accustomed to in the Caribbean and South America. "Little" things like phone, internet, fuel, food, restaurants, movies as well as prescription drugs, medical/dental, etc. were a real shocker and really add up. We can definitely see an increase in the cost of living in Houston just since we left 2 1/2 years ago.
We knew that the cruising lifestyle keeps us active, but didn't realize how active, until we came back to Houston, where we both are now at record-high weights. I guess just living on a boat keeps us moving around a lot, plus the heat of the tropics helps us sweat it off, not to mention all the walking we do. Of course, sailing takes physical effort, as well as boat projects. We are confident that we'll be able to get back in shape after we take off again.
So what did we do during the duration? We had several long visits with Steve's family in St. Louis, his daughters/granddaughters in and near Kansas City,
| | | |
| --- | --- | --- |
| Abby & Ashton - say "cheese"! | | |
| | | |
| Granddaughters Abby & Ashton | Scott, Ashton, daughter Jill, Abby, daughter Jana, Steve | Playing with Deborah's hats |
| | |
| --- | --- |
| | |
| Arts & crafts time | Grandpa Steve, Deborah with the little girls |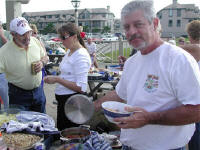 and Deborah's Dad in Dallas (near the Valiant factory). Steve's brother Ray and his family Christina and our niece Jackie live in Houston so we saw them frequently. We caught up with our friends in Houston, and participated in many T.A.S.S. (our sailing club) activities. (Pictured: T.A.S.S. New Year's Day Black-Eyed Pea Cook-off Contestant Steve.) A friend asked us to do a presentation to the Houston Yacht Club Women's Racing group (and interested men) about our cruising experiences, which was fun to put together, using pictures from this website.
Green Acres . . . One of our trips to St. Louis was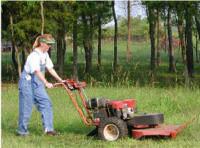 with brother Ray to help him work on his developing farm.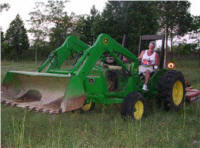 During that week, Ray worked our butts off, mowing fields with the tractor, cutting heavy brush with the brush hog (left), cutting down and burning 100 trees, using power tools to build additions to the kids' playground, etc. Of course, we always manage to get some fun in, too, as various family members drop by.
We also made a trip up to the Valiant factory each month to survey the work being done, re-inventory and order spare parts, and reload all the boat equipment that Valiant had to take off. One of these visits included Valiant Yachts' 30th-year anniversary party weekend! It was a first-class weekend, including fantastic sit-down dinners and generous door prizes. We met 25 other Valiant owners, and were thoroughly entertained by guest speakers Robert Perry (he designed the Valiant in the mid 1970's), Mark Schrader (he's done 2 solo-circumnavigations in Valiants), Nathan Rothman (original founder of Valiant Yachts) and Rich Worstell (owner of

Valiant Yachts for past 25 years). Bob Perry was quite amusing as usual. Did you know . . . that the Valiant logo was originally designed for the name "Voyager" Yachts, then they found out that the name "Voyager" already belonged to an existing boat, but the logo had won awards so they wanted to keep it so had to come up with another "V" name, and thus Valiant was born!
While ARGO was at the factory, this was a good opportunity for us to take care of other boat projects and related issues. Our GPIRB had been recalled so it had to be sent back to the factory for work. Likewise, our Switlik life raft had a recall on it, plus it needed an inspection and repacking, so we and interested friends watched as the authorized
| | | |
| --- | --- | --- |
| | | |
| Our inflated life raft | Oops, where's the get-a-way knife ?!?! | Survival stuff included; we added documentation, prescriptions, eyeglasses |
service center opened it up, inflated it and gave us a "guided tour" to refresh our memories. Everything looked fine. However, closer inspection revealed, to our collective shock, that there was no knife in the designated "knife" pocket (the knife cuts the life raft painter line free from the sinking mother ship). The service center had never seen this "error" before. By the way, we also have a ditch bag onboard ready to go that includes safety, navigational, medical, fishing, nutritional and hygienic equipment and $, documentation, etc.
Once ARGO came back to Houston, it took us a while to reload all our personal items, re-inventory and reprovision. We remembered our vow when we took everything off in May not to put everything back on. After being out for 2+ years, we now know what we used and what wasn't used, or needed - if there's any question about whether it should go or not, then it stays behind! Fewer clothes, fewer dishes, fewer linens, less "stuff" . . . but more spare parts and tools. In keeping with Steve's desire, the WonderWash (salad spinner-like manual washing machine) was left behind. It's bulky and Deborah decided it was easier to wash clothes in the galley sink or bottom of the shower if reasonable laundry services are not available. We also bought an iPod and have loaded all our music CDs on it (7,000 songs), so this saves on space and adds on convenience.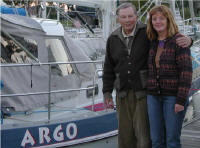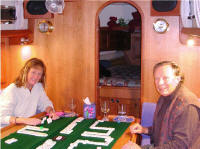 Deborah's Dad, Chuck, came to visit, spent a night on the boat, "it was unbelievably comfortable sleeping on the boat" in the aft cabin, and learned to play cruisers' favorite game of Mexican Train dominoes.
All in all, our time in Houston probably could have been better "planned" out, but then again we're cruisers and plans are meant to be kept flexible. We thought about working, but with the repeated travel to visit family and up to Valiant, and the frequent trips to the dentist, it would have been difficult, plus we were not expecting to be here as long as we were. Watching the Tonight Show recently, Jay Leno did his segment "What Sold on eBay", and at that moment I realized how I could have been spending my months here in Houston: Cleaning out the condo and figuring out creative ways to sell stuff on eBay. Items Jay highlighted: A "cooked unwanted brussel sprout", foreign, asked $1.75, sold for $2,743; "Rotweiler spit/drool", asked $0.25, sold for $32; real dead toads' menage a trois (explicit), $29; a guy who will write your name in yellow font in snow (in Alaska). With some imagination, we could have sold anything ("one man's junk is another man's treasure") and made a small fortune for our cruising kitty. Next time.
So, what will we miss most in leaving our dirt-dwelling creature comforts? Well, for Deborah it will be sleeping in the big king-sized bed with the A/C cranked way down and dark as a cave; long hot showers; unlimited toilet paper usage. We have really enjoyed the very mild and pleasant Houston winter with decadently cool days and blue skies being the norm. Deborah did break the mold of having her same 'doo for 20-something years with a light perm to give her that JFL - I love it!! What are we more than ready to part with? Well, duh, anything that costs money: the dentist, rental car, slip fees, and in general the higher cost of living here.
Of course, we will miss our family and friends most of all. Probably most of all, will be missing out on granddaughters Abby and Ashton, as they are changing by the day. We now have Skype Video capability whenever we have internet access so hopefully we'll get to see them on some of our calls. Our New Year's resolution is to have more family and friends visit us in the Caribbean/Central America. It will take us a while to get the lay of the land, but then we should have better logistics knowledge.