[ Back ] [ Home ] [ Up ] [ Next ] [ Panama City Recommendations ] [ David & Boquete Area Recommendations ]
Cursor over pictures to display caption; click to enlarge then close out of that window.
PANAMA / COSTA RICA
Part 4:
(Fall 2009 - mid 2010)
♦
Our Exile from Panama (a.k.a. "Immigration Runs")
▫
Puerto Viejo, Costa Rica (Caribbean side)
▫ Puerto Limon, Costa Rica (Caribbean side)
▫
Golfito, Costa Rica (Pacific side)
To see our previous page(s) on Costa Rica, jump back to Pictures/Journal - page 28.
OUR EXILE FROM PANAMA (a.k.a. "IMMIGRATION RUNS")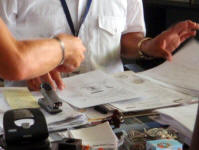 Cruisers typically get a tourist visa when coming into Panama. This requires that you leave Panama every 3 months for 72 hours. Alternatively, here in the Bocas area cruisers can get a marinero visa (after being on a tourist visa for 3 months) that is good for 9 months but requires that you make a half-day, combination water taxi-land taxi-bus trip to the mainland (Changuinola) to renew every 30 days. The catch is that the rest of Panama does NOT recognize the marinero visa, so you have to plan your moves accordingly. We originally converted to the marinero visa, but when we returned from the USA in fall 2009, we decided to stay on the tourist visa.
Since we're currently on the tourist visa, we have had to leave Panama 3 times since last fall, each trip for 3 days. This gave us the excuse to check out 3 different places in Costa Rica, whose border is only about 40 miles to our northwest. We have visited Puerto Viejo (Caribbean side), Puerto Limon by boat (Caribbean side) and Golfito (Pacific side). (See our detailed Costa Rica Trip Recommendations. IMPORTANT NOTE: Costa Rica is one hour behind Panama time.)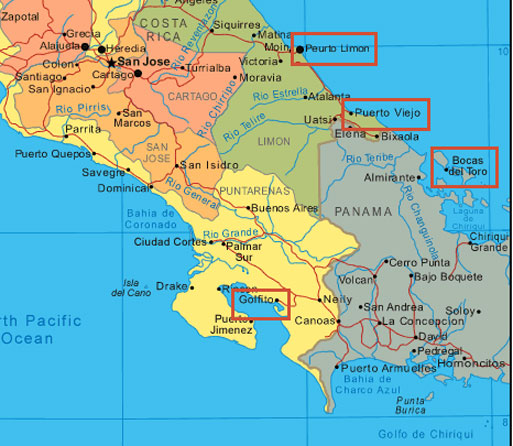 Costa Rica destinations (and our location in Panama) boxed in red
PUERTO VIEJO, Costa Rica was our first experience at the 3-day "mandatory vacation". (Steve had been here previously when Deborah was visiting in the USA.) It is located on the Caribbean side only about 50 miles from Bocas del Toro.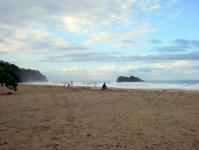 But it took 3½ hours to get here using the water taxi-shuttle van combo package (reasonably priced at $58 p/p roundtrip, door-to-door service). At the Panama-Costa Rica border, we had to clear out of Panama, then walk across a long, rickety bridge (also used for vehicular traffic - yikes!) and clear

into Costa Rica. The transportation service we used herds us through as a group so it's pretty hassle-free, and free of any official fees, too! Crossing the border into "bananalandia" Costa Rica, the landscape seems to change a bit, as we are greeted with huge, lovely Norfolk pine-like trees (a favorite of mine). The main road is bordered by rows of African palm trees, which we are familiar with from our previous visit to Costa Rica's Pacific side in 2007.


This seaside town of Puerto Viejo is a big surfer hangout and thus popular with the backpackers. There are great choices in restaurants and lodging, and an up and coming music scene. Compared to Bocas Town, it has more of an artsy-craftsy feel, and we found it aesthetically more pleasing as the town is fronted with actual beach and lots of greenery all along the shore. We also found

it cleaner with more green

space in the town itself. We stayed at a reasonably priced, cruiser recommended hotel (Casa Verde) a block from the main drag. It was clean and built around very lush grounds. We found great places to eat, and lots of street vendors and shops (more so than in Bocas) to poke around in. Costa Rica is known for it's beautiful woods and craftsmanship, and accordingly, as we discovered in our previous travels to Costa Rica, beautiful wood ceilings, doors and other appointments are commonplace.

Puerto Viejo is bordered on one end with a national park that affords many miles of walking/hiking and bike riding through beautiful tropical forest and quaint settlements scattered along the way. We found a hippie who makes lamps, and we bought a much needed light for over ARGO's salon table. Our lamp has local flora "laminated" into the shade.


Puerto Viejo (as well as Bocas) is well known among the surfer crowd as having excellent waves during season - the famous kick-ass Salsa Bravo is here. Accordingly, there are lots of hostels here for backpackers, but the most popular is Rocking J's. It is definitely worthwhile checking out just for the fun of it. It's huge, and was decorated by someone who obviously had LOTS of time on his hands and LOTS of scrap ceramic

tiles - practically the whole place is done in ceramics. Hang/pitch/rent accommodations include hammocks, sheltered tents on the ground or in the loft, shared rooms and private rooms. They have a restaurant and live music at night, but we managed to find their bar on several occasions for that cold beer and bathroom break during our hiking and biking excursions.
Click here to see detail

One day we hopped on the local bus and headed 45 minutes north to the beachside town of Cahuita, as we had read about it in Lonely Planet. After walking the 2 town streets, quenching our thirst at their intersection and walking down to the beach area, we decided we had seen enough (i.e., seen it all). The exception is that another national park abuts the town, and supposedly it has good hiking, but with the rainy season in progress, it probably would have been a messy trek across the swollen streams.

Because of the relative ease and low cost of traveling to Puerto Viejo, it is popular with cruisers for their 3-day getaway. For our detailed write-up on transportation, lodging, restaurants, activities and more, see our Puerto Viejo recommendations.
PUERTO LIMON, on the Caribbean side of Costa Rica, was our destination three months later for our mandatory 3-day exit from Panama.



We sailed on a friend's boat, s/v Tropical Dance (Dan & Reylyn), and buddy-boated with s/v Jackaroo (Dyllon & Darion). To cover the 65 miles by sea, we left Bocas at 10:00 p.m. and arrived around noon the next day. Puerto Limon is Costa Rica's largest shipping port on the Caribbean side, is never talked about as a cruiser stopover, and as such we were expecting a dirty, scroungy town. We were pleasantly surprised to find a clean, neat town with things to see and do nearby. There are 2 commercial docks in use (and 1 not in use), one of which is used for cruise ships when in port. We anchored within 50 yards of it. While this may sound like a bad idea, it

actually provided us with up-close entertainment watching the loading and unloading of cargo;

and with binoculars, well, the cruise ships provided alternate amusement. Fortunately, and unexpectedly, there was no cargo activity at night so it was quiet. As the harbor is rather open, the water is fairly clean. (If you click to enlarge the small picture at the top right, you can barely see the masts of our boats just to the right of the large blue roof with "steeple".)


In a port area one is always concerned with security issues and the "dirty" elements. That was certainly not the case here (although common sense should always be used). We found a secure heavy-duty ladder to lock our dinghies to, then had to pass through two sets of security gates to leave and enter the port area, showing our passports each time. The town itself, just outside of the secured area, was very clean with a nice pedestrian

sidewalk/mall area and lots of nice local arts & crafts. As with all Latin American cities/towns, there is a central park which here turned out to be one of the more appealing

parks we have seen. We quickly found the nearby Washington Bar with ice cold beer and sidewalk service to be our group's rendezvous spot. A highlight for Steve was having a Whooper with cheese (for breakfast) at Burger King - just like we were back in the USA! We also loaded up with a bucket of Pollo

Campero fried chicken (which we know and love from Guatemala and is similar or better than KFC) for our night time sail back to Bocas.
| | | |
| --- | --- | --- |
| | | |
| Sidewalk art gallery | Wood craftsman carving sign | Artist painting feathers |


We used a tour operator, who is being groomed to act as an immigration/customs agent for those doing their 3-day hiatus from Panama, to take our boat captains around for the clearing in and out processes. Even though it still involved a lot of running around, the process was much simplified using him. He then took our group of eight for a day tour: We did an impressive zipline/canopy tour, enjoyed a delicious lunch with a wonderful

panoramic view of the whole area, general sightseeing including the popular and pretty Bonita beach area, and a boat trip up a canal where we saw lots of

birds, a crocodile and the highlight being a sloth hanging over the water within our touch.
This was a very long, and initially fast, zipline run over the river:
El Rancho del Valle zipline canopy tour, La Bomba, near Puerto Limon, Costa Rica
RIVER TRIP

Sloth
Croc's eyes in center
Bird
Jesus Christ lizard
Bird
(Be sure to click the sloth picture to enlarge.)

On our tour, we experienced Pipa, which is the sweet-ish, natural water from unripened coconuts that locals love to drink. A man was delivering a cart of unripened coconuts. The girl in the video below shows us how it's done (don't try this at home), then we each tried Pipa. The "lid" is then used to scoop out and eat the soft flesh from inside. Not bad, just a hint of coconut taste.


We had an unexpected surprise one day walking through town. We ran into longtime friends Rocky & Denise from Houston (from our T.A.S.S. sailing club) who were on the cruise ship at port and heading through the Panama Canal to Peru. Once again, the cruising world is a small one.


For our detailed write-up on transportation, lodging, restaurants, activities and more, see our Puerto Limon recommendations.
GOLFITO, For something different, we spent our 3 days "in exile" at this little coastal town, located on a small gulf, inside the large Golfo Dulce on the Pacific side of Costa Rica.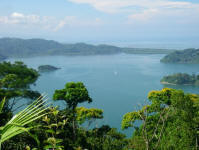 The "town" of Golfito is scattered along several miles of coast, with no real town center. While it is not a top-10 tourist destination, we enjoyed our stay, saw the sights and met the local gringo residents and a few cruisers. It was hot (April), so we tried to do our outdoor activities in the morning, and relax in the afternoon. There's not a whole lot to do in our opinion, so bring a good book for the afternoon - or schedule a nap.

We hiked way up a semi-paved national park road for a spectacular panoramic view of our Golfito, the large Golfo Dulce beyond it, and the Osa Peninsula in the far distance (barely visible in the pictures above) flanking the Pacific Ocean. Walks all along Golfito "town" included cruiser-recommended & wonderful lunch of mahi mahi with

jalapeño cream sauce (yummm!) and ceviche at La Casona del Mariscos, a stroll through the duty-free mall (all junk unless you're in need of appliances or electronics), and a daytime detour through the red light district of bars, with strategically located privacy screens at the doorways, and the conveniently located Alcoholics Anonymous center. There is a small community of gringos that live here (in Golfito, not the red light district), as well as a small cruising community, although most of the boats at the small marinas are for sport fishing.


We stayed at a cruiser-recommended, brand new guesthouse (Land Sea/Tierra Mar) owned by cruiser-friendly gringos. It is located up a hill, provided us very clean accommodations with a mini-kitchenette, and afforded us great views from our balcony. The popular gringo hangout, Banana Bay Marina, Restaurant & Bar was located directly across the road from us. The other popular hangout is The Fish Hook, only a few


steps away.
What did take some getting use to (at least we weren't in a boat) is the large tidal range on the Pacific side. Being on the Caribbean side, we experience only about a one foot tidal range.
COMPARISON of TIDAL RANGE in GOLFITO (Pacific side)

The tidal range on Panama's Pacific side is 12-16 ft. (some sources say 20 ft.). Here in Golfito, during this new moon phase, we were only experiencing about a 10 ft. range. These pictures are of Banana Bay Marina, Restaurant & Bar.

HIGH TIDE

LOW TIDE


For our detailed write-up on transportation, lodging, restaurants, activities and more, see our Golfito recommendations.


P.S. As I publish this update, we have just returned from our 2nd immigration trip to Golfito. As the first trip was done in April when it was hot and drier, this trip in July was during rainy season so we were prepared accordingly to spend more time under cover with book, computer and hammock. Still enjoyed our time there, and got to go back to our favorite restaurant, La Casona del Mariscos for the mahi mahi in jalapeño cream sauce!

Continue on to page 35 . . .
[ Back ] [ Home ] [ Up ] [ Next ] [ Panama City Recommendations ] [ David & Boquete Area Recommendations ] [ Top of page ]