[ Back ] [ Home ] [ Up ] [ Panama City Recommendations ] [ David & Boquete Area Recommendations ]
Cursor over pictures to display caption; click to enlarge then close out of that window.
PANAMA
Part 5:
(2009 - mid 2010)
♦

In and around Boquete area
▫

Coffee
▫

Indigenous Indians of Panama
▫

Spanish ceremonial dress
▫
Mondongo party
♦

In and around David area
▫

Medical stuff
▫

Las Lajas, Pacific views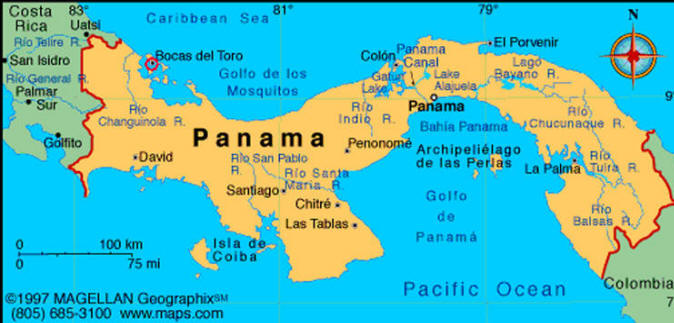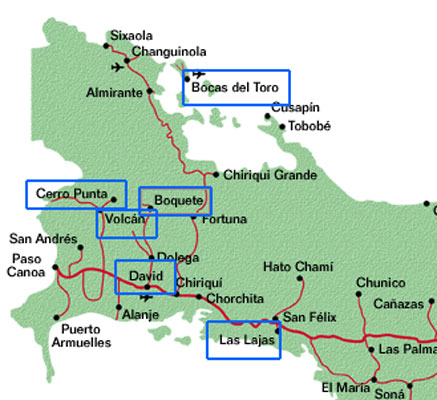 Destinations referenced below (and our location in Bocas del Toro) boxed in blue

IN AND AROUND BOQUETE AREA


We've made several visits to the Boquete (3,500 ft. elevation) area in the mountains, where good cruising friends & Texans Mary Ellen and Randy have their home at 5,000 feet. They have a spectacular close-up view of inactive volcano Barú, which is the highest point in Panama at 11,400 feet. Their home is perched on a plateau (enlarge picture at right, house is red roof at bottom right), surrounded by mountains and valleys. The Boquete area is known for the bajareque, which is a heavy mist that moves through typically in the afternoon, frequently accompanied by thick fog rolling through below, at or above you. It brings a certain peace and tranquility to the area, much as a light snow muffles far-off noises and makes those sounds close to you crisp.

And during this season,

everything is very green and lush, as there is added rainfall, too. Accordingly, you can go from t-shirt and shorts in the morning when the skies are clear blue, to longer wear by afternoon or evening. You just plan your day's activities around it. And as I write this long over due website update, I'm sitting at their house (while they're in Texas welcoming their first grandson!) getting inspiration (or is it distractions!) from the magnificent views.

Their house sits in the middle of coffee plants, and is surrounded by lots of orange, lime, grapefruit and avocado trees that they planted.


Mary Ellen and Randy have an Indian, Omar, who tends to their grounds. During the growing season, the coffee plant starts off

with a delicate white flower, which turns into a green berry, then ripens into a red "cherry". During the coffee picking season (November - February) Omar recruits friends, big and small, to selectively hand-pick only the ripe red "cherries", leaving the green berries to ripen and be picked later. This selective picking is more labor intensive and thus used for the finer, high-end Arabica coffee found here in Panama. The workers are paid by the quantity of cherries picked.



The red cherries are bagged and must be taken to the coffee producer within a day or two of picking. Mary Ellen and Randy have chosen Cafe Sitton to sell to and process their coffee. We went with them to drop off several big bags of picked coffee. It's weighed, then dumped into a large "underground" water vat for soaking, then many stages of processing.

The outer fruit or pulp of the cherry is removed at some point in the processing, revealing the coffee bean (seed). Depending on the method used, the cherries before "cleaning", or just the beans, are dried on pavement in the sun. Yes, November - February is considered part of the "dry" season here.
MAÑANA MADERA COFFEE ESTATE
Randy and Jamie (neighbors of Randy & Mary Ellen) have about 6,000 coffee plants, and produce and sell their boutique coffee themselves under the name Mañana Madera Coffee Estate. Randy has come up with a blended coffee similar in concept, for example, to a blended Cabernet Sauvignon-Merlot wine. Their 2010 Special Reserve was rated "Excellent" when officially tasted. Randy is currently (July 2010) making daily shipments to the USA from Boquete, Panama. Check out their website, better yet check out their coffee and place your order before it's gone! We certainly have been enjoying their specialty Panamanian coffee! (Click on picture for link)



We've had lots of good times in Boquete with Mary Ellen and Randy over the past couple of years. They have shown us all around and we've met lots of their friends. Now up here "on our own" we have met a lot of the local gringos as we have joined in some of the activities such as hiking, dinners and the weekly Tuesday Market (& meeting/program) - we can buy wonderful home-made breads, soups, hydroponic greens and other produce, hand-made wares, arts & crafts, etc. (There's always a spicy Thai soup that I look forward to for breakfast, and Steve likes the potato & cheese empanadas.) We stock up on bread (e.g., green olive & rosemary, jalapeño & cheese), and fresh arugula and basil (picture below - have you ever seen such BIG leaves?!).

LOCAL COLOR around BOQUETE

Typical Indian family on Sunday stroll; man carries machete; woman & girl in traditional dress
Indian boys playing while on my walk
Angel's Trumpet plants with it's pendulous flowers are a common, colorful sight
Hydroponic greenhouse
Spring is strawberry (fresa) season so fresh berries & cream are sold along the roadsides
Using oxen to prep field in spring; besides coffee, there are potato (mid) & onion (rt) fields nearby; they cultivate on steep slopes; irrigation trenches essential to handle the rains during rainy season
Bananas
Double rainbow from their house (lt); rainbows are very common up here due to afternoon rains
Passion Flower
Stop by Cafe Ruiz for some coffee - they are one of the largest producers in Panama
Hiking Caldera hot springs
Hiking on the Pipeline trail
Caldera River runs along edge of Boquete town; Nov. 2008 massive flooding totally destroyed a bridge (a 2nd bridge had just been completed the week before) and many homes/businesses, and discombobulated the river; above major project to "redefine" river and protect town
Rainbow Eucalyptus tree trunk; bark peels off to reveal a multitude of color
Very steep concrete carriles, or rails, to drive on to access Randy & ME's house; there's another set above these; tough when raining . . . or walking up!

(Lt. Steve walking up; Rt. view from top)

Boquete Christmas Parade 2009
Street vendor selling molas made by Kuna Indians in San Blas Islands
Tame deer at Lerida coffee finca (plantation)
Henry, son of Indian groundskeeper
?
Odd beetle on coffee plant
Mani ("little peanut"), pretty for landscaping, grows wild and is planted on hillsides to prevent erosion and mudslides
Boquete Flower & Coffee Festival 2009

Why he's playing Peruvian pan flutes and is dressed as a North-American Indian nobody could figure out ??? . . .

. . . speaking of which . . .
INDIGENOUS INDIANS of PANAMA
Panama has seven recognized indigenous Indian tribes that generally live in their own comarca, similar to an Indian reservation with it's protected area and own political system. They have their own language distinct from Spanish. Some of these tribes have blended in with the general population, while others have managed to hold on to their traditions and their own language.
The provinces of Chiriquí (includes Boquete and David) and Bocas del Toro is home to the Ngöbé-Buglé (formerly Guaymí) tribe, which comprises roughly one-half of the indigenous population of Panama. They speak Spanish but have attempted to preserve their traditional way
of life. Most notably is that the women and girls wear their traditional dress, call la nagua : colorful, loose-fitting, full-length dress (almost mumu style), with a pinafore-type collar. The collars, sleeves, waist and bottom are trimmed with what at first glance looks like rickrack, but upon closer inspection is tedious, labor-intensive, hand-embroidery. Others are made by hand-sewn appliqués, piecing layers of different colored fabrics together on top of the dress material (a bit reminiscent of molas). The jagged edges and bright colors mimic the surrounding mountains and forests. The men and boys wear regular western dress.

Yes, it is a common sight to see these Indian women and girls wearing these dresses everyday whether they're in town, walking down the road or working on a coffee or other agricultural finca (plantation).
Probably the best known are the Kuna Indians who live in the Caribbean's San Blas Islands, a matriarchal society where the women make and sell molas. The other Indian tribes are: the Emberá and Wounaan who live in the very wild Darién jungle (borders Colombia), the Bokatá (Bocas del Toro), the Bribri (Talamanca) (live near Costa Rica border), and the Teribe (speak their own language).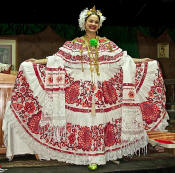 SPANISH CEREMONIAL DRESS
I saw an interesting and entertaining presentation on the pollera, the traditional and ceremonial Spanish dress for Panamanian women and girls, and currently the National Costume of Panama. Typically, it takes about 1½ hours to be dressed; for this presentation it was crammed into an hour. The pollera consists of a couple layers of white petticoats with ruffles and/or embroidery; an over-skirt with embroidery; a top with layered

ruffles, resting off the shoulders, decorated with embroidery and yarn (and matching color pompom front and back); and slippers that match the yarn color. Many gold chains (nine, I think if you're wealthy) are placed around the neck, each with it's own significance and design. The hair is parted perfectly down the middle with 2 ponytails on either side at the back of the head. The elaborate headdress is put into place individually (as opposed to putting on one big "hat"). It consists of many gold combs (mosquetas), and gold and pearl tembleques, which are made up of beads attached to a spring so they tremble and attract attention when the wearer moves or dances.

The jewelry and head dressing are typically 10-carat gold for the affluent, otherwise gold-plated silver. The polleras are hand-made, and passed down as heirlooms through generations. Families save money for years in order to be able to provide a pollera for a daughter. Polleras reflect your standing in society: Affluent women have a new one each year; some may only have one as a girl and another when she reaches adulthood (quinceañera) at age 15. Polleras generally cost several thousand dollars; the one shown above, based on the figures the presenter threw out, I'd guess would cost all total close to $10,000 (but don't quote me on that).
(Big thanks to Mark Heyer in Boquete for use of his photos, as I didn't have my camera that day.)
MONDONGO
This past weekend, we attended a mondongo, or mondongada party, thrown by cruisers Dottie & Larry, m/v Changes in Attitudes, who are building a house in Boquete (along with a bunch of other cruisers we know).
The Panama tradition is that when the roof goes on your house, you raise a red flag and throw an appreciation party for the workers thanking them for their hard labors. As the party was originally for the workers, mondongo was typically served. Mondongo (which I think translates to "innards") is a

soup delicacy made from tripe (cow's stomach, intestines) and is similar to menudo in Mexico. As things evolved, the party's invitee list was broadened to include the owner's family and friends.
Fortunately, Dottie & Larry think well of their friends and instead of serving mondongo, served up hamburgers, hotdogs and more along with copious amounts of beer and wine.
IN AND AROUND DAVID AREA



We've been to David (2nd largest city in Panama, but it's still not that big) several times: Routine medical exams, shopping, en route to Costa Rica for immigration runs, en route to Boquete for visits, and a girls' weekend get-away trip.
MEDICAL COSTS
Here are some examples of typical medical costs we paid in April 2010 in David, Panama:
$35 Office consult with doctor *
$100± Routine blood/urine/stool lab **
$50 Shingles vaccination
$60 Ob/gyn exam, PAP, ultrasound *
$47 Mammogram **
$47 Bone Density **
* Doctors freely spend as much time with you as you like, and yes, our doctors speak English
** After jubliado discount (for women 55 and older, men 60 and older, varies 15-20%)
MEDICAL STUFF
We recently did our annual routine physical exams in David, and as usual, are very pleased with the medical attention we receive, the responsiveness of the doctors, and how affordable it is compared to the USA. The very efficient laboratory posts our lab results online so they are readily available to us and our doctors. (See text boxes.)For medical recommendations, see our David & Boquete Area Recommendations write-up.


Looking and feeling healthy!
BELIEVE IT OR NOT . . . and you won't . . .
One of the frustrating, but known things about life down here is that even though somebody says they will call you back, THEY NEVER DO.
But there is one exception, and you won't believe this one. Doctors, yes, DOCTORS answer their own cell phones, take calls at their office, return calls and reply to emails - all on a very timely basis. Yep, they freely give out their personal cell phone number and email address to us.
HOT FLASHES . . . IN THE TROPICS!
I was worried about Steve when we left the states. What was going to happen to him, alone in the middle of the ocean, with a menopausal woman. Well, Steve, it hasn't been toooo bad now, HAS IT ?!
But what has been bad are hot flashes in the tropics. Oh man, it's bad enough in the air conditioning, but can you imagine it in the hot, humid tropics? A doctor once advised me to dress in layers so I could strip them off when a hot flash came on. Is he kidding or what!? I barely wear clothes down here as it is!
Upon vacating my seat after a sizzling round of dominoes, concurrent with a major hot flash, a male friend sat down in my chair and immediately jumps up exclaiming "WOW, this seat is HOT!" . . . since I had been playing poorly I knew he wasn't talking about my gaming abilities . . .


Las Lajas lies on the Pacific coast about 1½ hour drive from David. We decided to check out the Boca Chica area and spend the night at the Las Lajas Beach Resort per recommendations from friends. Clean, comfortable rooms with the extras, infinity pool, open-air restaurant/bar and we were set. Lovely wide beach that stretches for miles in either direction, with a backdrop of numerous islands, and the mainland to the


east. You can practically walk a mile straight out and still stand up (the tide was out in these pictures). Small, orangish-red crabs blanketed parts of the beach, moving in unison as we approached.
Around David Area / Pacific Ocean Views
Bamboo farm: Takes about 5 years for bamboo to mature; these have a couple of more years to grow; bamboo is treated in large pits
Hiking an island
Boca Chica Plantation Club: Great view, lovely clubhouse + infinity pool, mahogany (above right) and teak tree groves
View of reefs, islands
View of mainland from island
View of mainland from water
Gone Fishing marina & club in Boca Chica
To be continued.
[ Back ] [ Home ] [ Up ] [ Panama City Recommendations ] [ David & Boquete Area Recommendations ] [ Top of page ]