[ Back ] [ Home ] [ Up ] [ Next ] [ Panama City Recommendations ] [ David & Boquete Area Recommendations ]
Cursor over pictures to display caption; click to enlarge then close out of that window.
PANAMA
Part 1:
(Summer & fall 2008)
♦

General
♦

Bocas del Toro (Aug. '08, Nov. '08)
♦

Inland travel - David, Boquete, Vol

c

á

n (Aug. '08)
♦

Visit to U.S.A. (Nov. '08)
We were surprised to discover (and feel stupid admitting it!), that Panama actually extends horizontally west to east - like an "S" laying on its side - and the Panama Canal runs north-south (we did know that). Are we the only ones geographically challenged? - I bet not!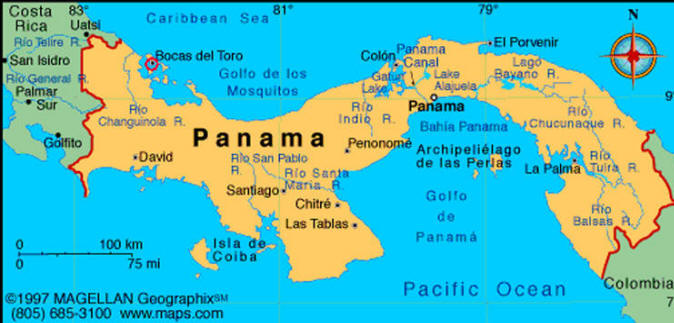 Panama is the southern-most country in Central America. It is bordered to the west by Costa Rica and to the east by Colombia; by the Atlantic/Caribbean on the north and Pacific to the south. At it's narrowest part, the isthmus is only 30 miles wide.
PANAMA

POPULATION:

3.2 million people; 65% are mestizo (Spanish-indigenous mix) + sizable Chinese + seven indigenous tribes; 37% live below poverty line

AREA:

29,000 sq. mi. - about the size of South Carolina

CAPITAL:

Panama City
LANGUAGE:
Spanish

LITERACY RATE:

93%

OFFICIAL CURRENCY:

"Balboa" which is the U.S. dollar. Coinage is interchangeable between U.S. and the U.S.-look-alike Panamanian coins
RAINFALL:
Average per year varies: 4 ft. Pacific side to 9 ft. Caribbean side

FAMOUS FOR:

Panama Canal
BRIEF HISTORY:

| | |
| --- | --- |
| 1878 | French attempt to build the Panama Canal; later abandon it due to fatal malaria, yellow fever and bankruptcy |
| 1903 | Panama declares independence from Colombia; U.S. supports this move |
| 1914 | U.S. completes Panama Canal |
| 1921 | Colombia finally recognizes Panama's independence - after U.S. pays Colombia US$25 million in "compensation" |
| 1989 | U.S. invades Panama and extradites Manuel Noriega on conspiracy and drug trafficking charges |
| 2000 | U.S. turns control of the Panama Canal over to Panama |
| 2006 | Panamanians vote to expand the Canal and build 3rd set of locks |
| 2015 | Expected completion date of Panama Canal expansion project |

LEMONS !
Believe it or not, lemons are not found in the Caribbean. So far, the only places we've been able to buy lemons are Bonaire and here in Bocas del Toro. Limes are usually plentiful and used in place of lemons.
BOCAS DEL TORO, PANAMA is located in the west on the Caribbean side (see map above). We arrived June 18, 2008 and are currently in the Bocas Marina, a nice 100-boat marina with floating docks, where we will leave ARGO when we visit the USA this fall. Bocas del Toro is a large area with lots of
islands, coves and small settlements. It is a cruiser community with a couple of marinas and anchorages. This area is also known for its surfing, and there are several cruisers here for just that reason. The main town of Bocas town is a vacation destination with a range from backpacker hostels to nice hotels; has decent, well, basic at best, shopping and services; and lots of restaurants/bars. It is a big hangout for backpackers and supposedly really rocks at night - but we wouldn't know 'cuz us old folk cruisers don't go out in the dinghy at night here for water safety reasons!
AGAIN . . . NOBODY KNOWS
Compared to the rest of Central America (Costa Rica excepted) we think of Panama as being more civilized and organized. Maybe so in some respects, but with respect to their immigration laws, nobody really knows what the law is. Seriously. Their immigration law is in a constant state of flux.
We cleared in mid-June, 36 hours after a friend of ours, and were told that different rules now applied to us. The official explained that they ". . . had a meeting yesterday and that the rules will be changing on July 1. Even though it's not July yet, my boss told me to start using the new procedures to get people used to the new rules." And so we were subjected to the new, less favorable rules.

Now we have to go into Changuinola on the mainland (via hour water taxi, then 20 minute taxi) every 30 days (old new rules) to renew our immigration. The seemingly knowledgeable official there admits that the rules/law literally change on a daily basis, so she tells everyone to call her before coming to see what the latest rules are and how it affects them! And as with most Caribbean countries, the bureaucratic paperwork-push-pull is astounding.


Shortly after we arrived in Bocas del Toro, our Texas cruising friends Mary Ellen & Randy, s/v Wanda Jeane, who we sailed south with from Honduras, took us on an inland trip into western Panama, where they now have their residence. What better way is there to see an area up close and personal!
WESTERN INLAND TRAVEL

Traveling by rental van, we visited David (pronounced dah-veed), the biggest city in the region and due south of Bocas del Toro. Although not very far as the crow flies, it takes about 4 hours as we have to cross over the Continental Divide. David is not very far from the Pacific and almost at sea level. Shopping is quite good (great grocery/deli stores, Target/Wal-Mart/Home Depot type stores, and you wouldn't believe all the electronics stores!), and cruisers come here (or Panama City) for their medical needs. (P.S. We did our routine physical exams in Nov. '08 and were very pleased with the medical attention we received.)


In the middle of this mountainous region is Volcán Barú - the highest point in Panama and the country's only volcano (inactive). We first travel to the "other" (west) side of the volcano, to a string of small towns such as Volcán and Cerro Punta. A

gricultural farming is a mainstay here, amazingly done on the steep mountain slopes; horse, cattle and trout farms as well. Our first impression was of European alpine country, with wooden A-frame houses, colorful window flower boxes and yards filled with vibrant color. The air is cool and crisp, as clouds hang off in the distance suspended between mountain tops. Very refreshing and invigorating. Our rooms were alongside a rushing stream that provided a perfect backdrop for sleeping.
FINCA DRACULA ORCHID SANCTUARY

In Cerro Punta, we toured Finca Dracula, home to one of the world's largest and most complete collections of rare American orchid species. They have over 2,200 different orchid species. WOW, we never knew there were so many different looking orchids, and in every color imaginable.

Above, one of the many orchid houses. This one is for high humidity, with water moats.

Dracula vampira

The finca (plantation) takes it's name from the orchid genus Dracula, so named because of the two fang-like, downward hanging, petals. Some of them look just like a monkey's face.

This one is covered in bristling hairs

In nature, reproduction is scanty and maturation slow. Here in their labs, they are able to mass produce orchid plants in vitro and have produced more than a million.

Teeny tiny orchids

In their labs, they are able to make many novelty orchid hybrids using their vast and extensive collection as stud plants. They have over 300 species made from their own hybrids.

We witnessed this orchid that only blooms for 8 hours once a year - and we were there to see it (or was that a plastic flower?).

Orchids have different scents to attract bees, hummingbirds and other birds, bats, etc. We smelled orchids that had scents of vanilla, eucalyptus, bananas, cinnamon and so on. At the Finca, they pollinate the flowers by hand, seed pods develop and several months later they take the seed pods off and plant them separately.


We then had to backtrack to David and around to the east side of Volcán Barú - there is a challenging hiking path that skirts the volcano from one side to the other. Around on the other side is the town of Boquete, which has grown by leaps and bounds over the past 3 or 4 years, mostly by gringos moving into the area. (This Chiriqui province's investments grew by 40% from 2006 to 2007.) Although not as big as David, it has decent shopping and even better restaurants - so much that Davidians make the 45 minute trip in for dinner. Boquete is situated in the valley, surrounded by mountains covered in coffee plantations - from which you can see the Pacific Ocean on some days.

Mary Ellen and Randy's property is situated on a ridge, their house surrounded by lush coffee plants/plantations, and with an up-close and personal view of the volcano on one side, and mountains and undisturbed valley on the other. They have planted scores of citrus and avocado trees, some of them they have grafted, and loads of flowering trees, bushes and plants around the house. Not only beautiful, but unbelievably peaceful with nothing else around except the sound of nature!
Hikes through Boquete's and Volcan's thick forests.

<------>

<--- In Boquete, Mi Jardin Es Su Jardin (My Garden is Your Garden): Owner's huge, private and meticulously-kept gardens are open to the public; about a dozen koi fish ponds, bridges, chapel, lots of whimsical garden art and, oh yes, lots of flowers.
<--- A geologist would love this: large natural rock wall made up of rock "beam" formations - very odd indeed.
In Boquete, we were lucky enough to meet a lot of Mary Ellen and Randy's friends, and got to see their new homes - all of which are different and all with wonderful, spectacular views. Those who live on small coffee parcels typically hire cheap labor to maintain the crop and pick the coffee beans. In some cases, a local commercial coffee grower will provide this service in exchange for the coffee bean production, less whatever the property owner wants to keep for personal consumption.
EXPAT HAVEN
Panama wants to attract residents and businesses and is taking steps to simplify (but not necessarily to expedite) the process. One way is with the pensionada visa - you only have to prove good health, no criminal record and a monthly income of $500, or buy a home for at least $200,000. The pensionada entitles you to bring in household goods and import a new car without paying duty, have a 20-year tax holiday and enjoy discounts of 15% to 50% on hotels, restaurants, air and other travel, movies and many professional services. We know quite a few cruisers who have applied/received their pensionadas. The downside is that it takes at least 9 months and can be a VERY frustrating experience - as we've witnessed some of what Mary Ellen and Randy have gone through, even when an attorney is employed! Again, nobody really knows and there's a lot of finger-pointing going on between those "in the know".
There's more to come on Bocas del Toro . . . and Panama . . .
and the Panama Canal . . .
- - - - -
We are flying back to the USA for a visit in October and November, as we have not been back in 2 1/2 years. We have not explored by boat outside Bocas del Toro, so when we return, we plan on heading out . . . but where we're going, nobody knows . . .
- - - - -
The below pictures are from around Bocas del Toro: Hiking behind marina, Bocas Garden Club outing, girls' slumber party, hiking on Carenero Island, girls' day out, aerial shots from plane; and from Boquete

Deb & Geraldine
Noni (great morinda)
Ceiba, leafcutter ants
Land slumber party
Passion fruit/flower
Colorful berries
Aerial of Bocas town
Jailbird grasshopper
Aerial of Bocas area
Sloth behind marina
On Carenero Island
Girls' luncheon
Red-eye tree frogs, eggs
Star fruit
Pineapple
Crab with huge claw
"Peach" tree with sharp "needles"
New gecko on ARGO
Peppers in Boquete
Volcan Baru at dusk from Mary Ellen & Randy's Boquete house



We flew on a small prop plane from Bocas del Toro to Panama City (otherwise it's a long, 12-hour bus ride over the mountains). A direct flight got us back into Houston in 4 hours, flying directly over Isla Providencia (offshore Nicaragua) and other isolated reefs and cays that gave us an awesome birds-eye view of some of the places we had just come from months earlier.
Our 2 months in the USA were spent visiting family and friends in Houston (where our condo is), Dallas, Kansas City, Pittsburgh and St. Louis. It was also time to renew our U.S. Coast Guard (Merchant Marine) licenses. During our stay, hurricane Ike blasted through Houston (and Galveston) - our only damage at our condo was several large fallen trees but no structural damage. Surprisingly, most of our friends faired quite well with their houses and boats - we consider them very lucky as so many people lost everything.
U.S.A. VISIT (Fall '08)
DALLAS:

Debbie's Dad, Chuck (with Nathan)

Had a great visit going through lots of photos - some very old to current. Had us guessing on who some of the people were in them!
KANSAS CITY:

Steve's daughter Jill and husband Scott; granddaughters Abby, 8, and Ashton, 5.

Both girls are big soccer players; Abby also plays softball and basketball
ST. LOUIS:
Lots of food, drink, activities and games for all ages
Jackie, Abby & Ashton representing our "M&M" (Mary & Martin) family
Steve's Mom's side of the family had a big family reunion (97 out of 240 people attended)
Surprise birthday party for Steve!
PITTSBURGH:

Steve's daughter, Jana

This was our first trip to Pittsburgh (pop. 300,000; 1.3 million in greater metropolitan area) and we were very impressed with the city. The downtown sits on a point where the Allegheny and Monongahela rivers join to form the Ohio River. Long gone are the dirty, pollution-spewing steel mills and coal mines, and black buildings. Instead, we found a clean, pleasant, health- and philanthropic- minded city. The fact that there are about 30 colleges and universities here, including Carnegie-Mellon, keeps the city young, thriving and full of culture - a great place for Jana to live and work.

Click picture to see enlarged panoramic view . . . and count the bridges!

As you can see from the panoramic picture, Pittsburgh is the city of bridges: Stats vary, but suffice it to say that there are 15 major bridges in downtown Pittsburgh alone; roughly 700 bridges inside the city limits and 2,000 in Allegheny County. This gives the city the distinction of having the most bridges in the world, just surpassing the previous leader, Venice, Italy. Other city highlights include: Lots of pioneer-setting medical endeavors (Jonas Salk invented the polio vaccine); employer-provided health care originated here; lots of great micro-brewed beers; the largest population of veterans - and a huge Veterans Affair (Administration) operation (where Jana works); home to Heinz ketchup; standard deli fare includes French fries and coleslaw loaded into your sandwich; and devout Pittsburgh Steeler followers. One more tidbit: The "h" was dropped in "Pittsburg" in 1891, but was restored 20 years later.

HOUSTON: Aside from hurricane Ike, we really enjoyed our visit in Houston catching up with family, friends, our sailing club, work chums, and several cruisers that we'd met over the past couple of years in the Western Caribbean.

One of the things that struck us most, besides the usual sticker-shock, was the amount of "excess" to which people have become so accustomed. We couldn't believe the number of SUVs that are on the road - pretty much 9 out of every 10 vehicles we saw in "affluent" neighborhoods was one of these monsters. And the "excess" number of selections available to consumers is overwhelming (and not necessary): For example, I noticed that Tropicana orange juice (carton) now comes in about 20 variations: no pulp, some pulp, lots of pulp, with calcium, with calcium + D, lots of pulp with calcium + D, with vitamin C, with omega 3, low acid, light 'n healthy with pulp, light 'n healthy with calcium, for kids (!), with antioxidants, without antioxidants, etc. . . Geez, com' on . . . !

Another thing horribly blatant, and I'm sure not at all surprising to you, is the super-fast-paced daily lifestyle. It shows us just how much we have been able to slow down and enjoy things - which we think also has great health benefits!

GOT A LOT OF BAGGAGE !

As is typical with cruisers returning from the USA, one is always grossly laden with a lot of excess baggage*, resulting nowadays in stiff fees from the airlines. Coming back we had 4 large bags, 2 backpacks and 2 briefcases, weighing a total of 260 pounds. The 4 large bags weighing 188 pounds had to be checked. Flying between Panama City and Bocas, Aeroperlas allows each person one checked bag, 27 pounds max, with extra weight charged at 70¢/pound, or $130 for us! BUT, by going to the airport the day before, we checked our 4 bags as cargo, and paid only 30¢/pound, saving $75! The day we traveled we were then able to check our backpacks and considerably lighten on onboard load. When we reached the Bocas airport, our "cargo" was securely waiting for us. Think we did too much shopping in the USA? A better question might be where will all this stuff go on ARGO?!

We did the same thing when we flew to Panama City in route to Houston. But we only had 95 pounds (to take back and leave at our condo) to send as cargo then.

On the Continental International flight from Houston to Panama City we were allowed to check one bag up to 50 pounds each at no charge and carry on our backpacks and briefcases. Extra bags were charged a flat $25 each, so a total of $50 for us.

* Excess baggage for us includes new and repaired boat equipment and boat parts and supplies (some of which can be very heavy and/or bulky), and dearly beloved items (like specialty toiletries, drug store items and marine cleaning supplies) that cannot be found down here. And there's always a few things to bring back for other cruisers, as they have done for us, too.
And after our return to Bocas del Toro:
40 DAYS, 40 NIGHTS + A QUIVER TO BOOT

A little geographical background. Bocas del Toro is a group of islands off Panama's north mainland, protected by reefs. Supplies, fuel and people come from Panama City and David across the mountains to the small coastal port of Almirante. From Almirante, they are transported by ferry or water taxi to Bocas del Toro. Otherwise, this community is pretty isolated.
Two weeks ago during the night we were hit with a 6.2 earthquake, the epicenter 85 miles from us and only 35 miles from where we had been in David 2 days earlier. Only minor damage in David. At about the same time, it started raining here, torrential at times, practically non-stop, for 10 days. All the weather stirred up the offshore seas with 12 ft. waves. And if that wasn't enough, at the same time extraordinarily high tides were occurring (usually minimal here, tide tables showed a 1.5 ft. high tide - huge for here) for over a week.

The result of all this was a lot of mudslides and washed out bridges in the mountains, cutting off the transportation supply route to our area, and disorienting cell/phone towers. Lower lying land including Almirante and Bocas, were flooded: Fish were literally swimming through our marina's restaurant/bar; 4 - 6 ft. breakers were coming over the sea wall in town and flooding the streets, businesses and homes. (The fire dept. was on the VHF inquiring when high tide was.) Boats here at the marina that are not on a floating dock (ARGO's on a floating dock) literally slipped their dock lines off the pilings.
The town and marina became cut off from all supplies, diesel was running out (diesel fuels the town's generator which supplies the marina's electricity) and gasoline has run out (for water taxis and our dinghy outboards). Water taxi service at this time is curtailed so nobody is coming in or going out, including the tourist trade (not that there would be any food for them). A diesel barge was being sent from Colon but it was being detained because of the 12 ft. seas. The word is that gasoline is coming "tomorrow". All flights (small planes) have been cancelled for a week.
Were we personally affected? Fortunately, we float and didn't feel the earthquake, either. Our cell and internet service was interrupted for a few days. Fresh produce was lacking, but we've got plenty of food on board. Because of the high tide running through the restaurant, our marina's Thanksgiving feast was postponed a few hours (some wanted to postpone to Saturday or the next week!) - and we had a truly lovely evening with over a hundred people and lots of outstanding pot-luck dishes. When we heard about the fuel shortages we quickly filled our tanks (from the marina's supply) and topped off our gasoline.
One little problem for us is that we are now past due on renewing our immigration papers, which requires us to travel to the mainland town of Changuinola by water taxi and then taxi or bus. The worthless immigration officer here in Bocas - who has no authority whatsoever - tried to convince us we must go to the mainland last week - right, no water taxi, roads closed, bridges washed out, immigration office a disaster and may be closed for weeks. Port Captain here says don't worry about it. Bet it'll be fun 'xplaining it to the officials when the time comes! Conflicting reports all around . . . see, nobody knows . . .
Walking through Bocas town today, the streets that are usually filled with lots of backpackers, divers, surfers and other tourists and locals peddling their services and wares, was empty except for the locals milling around. For the past several days, U.S. Military Black Hawk and Chinook helicopters have been coming in with relief supplies. We passed by the nearby airstrip today just as 2 U.S. Army helicopters (from a ship stationed off Honduras, we think) landed and unloaded hundreds of bags of relief supplies, each helicopter was in and out in less than 10 minutes. This went on literally non-stop all day long.
November is the end of rainy season here in Panama, and from what people say, it usually ends with a bang, or should I say, a whopping whosh and so it did.
Dec. 1, 2008
For our update on Panama City and our boat tour of the Panama Canal, continue . . .
[ Back ] [ Home ] [ Up ] [ Next ] [ Panama City Recommendations ] [ David & Boquete Area Recommendations ] [ Top of page ]